Duda Sanadze one more season with Borac
Wednesday, 12. May 2021 at 17:05
Georgian international Duda Sanadze has extended his cooperation with Borac for one more season.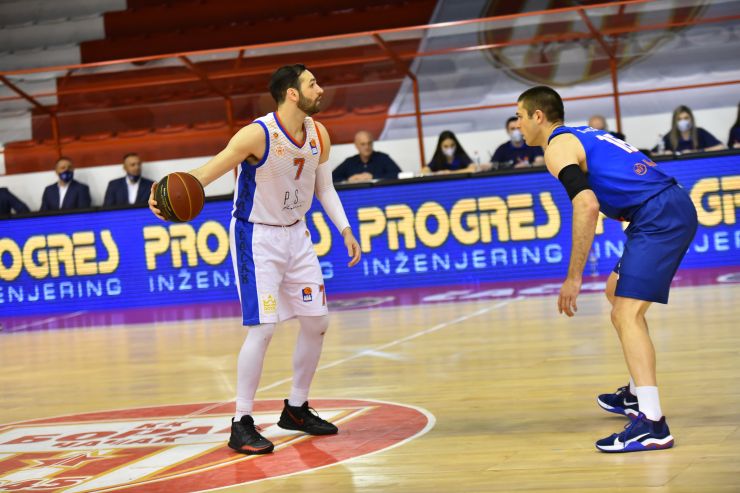 Duda Sanadze (Photo: Borac/Dusko Radisic)
The thing that rumours have been spread around over the recent period, has become official. Duda Sanadze agreed on an extension of cooperation with Borac and will continue to wear the jersey of the club from the town by the Morava river next season.
Experienced Georgian has arrived to the team in February, to replace injured Radovan Đoković. In the end, it turned out that he has been a great reinforcement for Borac, having finished many games as the most efficient Borac player.
Sanadze has appeared eight times for Borac in the ABA League. He has been averaging 11.3 points per clash.
With this move, Borac has demonstrated that it is eager to start building their next season's story on time. Especially due to the fact that the club will be competing in the elite ABA League competition once more, it will be extremely important to see which of the players will put on their jersey next season. It seems like signing with experienced Sanadze is a great move by the Čačak side.
--------------------
Duda Sanadze još godinu dana u Borcu
Reprezentativac Gruzije produžio saradnju sa Borcem na još jednu sezonu.
Tema o kojoj se u prethodnom periodu prilično govorilo u Čačku danas je dobila epilog. Duda Sanadze je postigao dogovor sa Borcem, tako da će i naredne takmičarske godine nositi dres tima iz grada na Moravi.
Prekaljeni Gruzin je u februaru došao u redove tima koji predvodi Marko Marinović, kako bi bio adekvatna zamena povređenom Radovanu Đokoviću. Na kraju se njegov dolazak ispostavio kao pun pogodak. Iako mu je trebalo vremena da se adaptira na novu sredinu i rang takmičenja u kom Borac nastupa, jer je pre toga bio u Kataru, Sanadze se na kraju pokazao kao veoma dobar igrač, tako da je u najbitnijim utakmicama po klub pokazao zavidan nivo košarkaškog znanja i veštine, a često je mečeve završavao kao najefikasniji pojedinac.
Valja pomenuti i to da je Sanadze u crveno-belom timu zabeležio osam nastupa u ABA ligi. Prosečno je beležio 11,3 poena.
Inače, Duda Sanadze, koji ima 28 godina, je igrač bogatog iskustva. Prvi angažman van Gruzije imao je 2016. godine, kada je nastupao za Primorsku. Nakon toga je igrao u Italiji, Španiji, Poljskoj, Portugaliji, a poslednja destinacija pre dolaska u Borac bila je Katar.
Takođe, nije zgoreg pomenuti da je Sanadze član repezentacije gruzije još od 2013. godine, a i dalje je redovan član nacionalnog tima.
Ovim činom Borac je pokazao da je na vreme krenuo da misli na tim za sledeću sezonu, u kojoj će ponovo biti član jadranske elite. Upravo zbog toga će biti od krucijalnog značaja koji će sve igrači obući dres institucije srpske košarke. A produžetak saradnje sa iskusnim Sanadzeom odličan je potez Čačana.