Jose Vildoza signed with Cibona
Friday, 04. June 2021 at 16:03
Argentinian international Jose Vildoza has signed a 2-year contract with Cibona (1+1).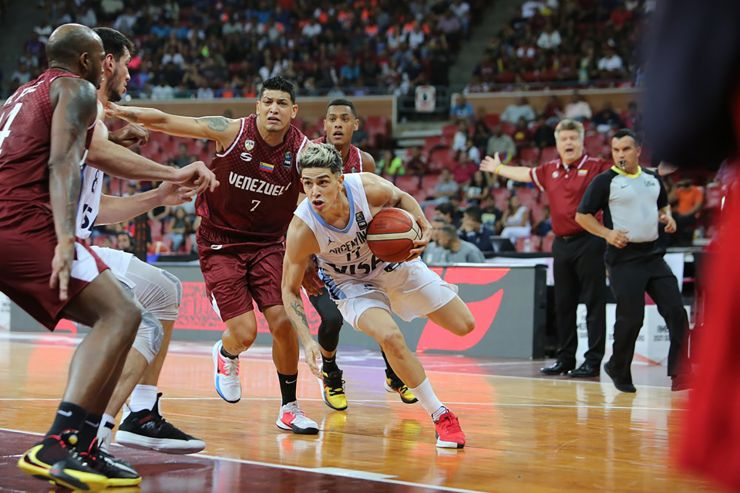 (Photo: FIBA)
25-year old point guard Jose Vildoza used to play for Argentinian national champions San Lorenzo, with which he won three national championship trophy and was named MVP of the Finals against Quimsa this season.
He has been averaging 14.9 points, 3.2 rebounds and 4.2 assists per game, while he scored 18 points, while adding 2 rebounds and just as many assists, while scoring in key moments, which secured him the MVP title.
As Vildoza signed with Zagreb squad, Cibona head coach Vladimir Jovanović stated: "We've been following Vildoza for a longer period of time and are familiar with his qualities. It hasn't been easy to bring him to Zagreb and Cibona, since richer clubs have been following him as well. We have done the deal on time, first entered the negotiations and presented our plan to him, regarding our expectations and his tasks. We have found common interest and are happy to bring in such a quality player, which is also an Argentina National Team member. We expect him to be a true reinforcement and will form an interesting backcourt together with the rest of the players. Soon, we will announce the arrival of some additional players. We've been on the market for a long time and want to reinforce the team with true, high-quality players with great characters, that can grow together and give their contribution."
--------------------
Jose Vildoza potpisao za Cibonu
Argentinski reprezentativac Jose Vildoza je stavio potpis na dvogodišnji ugovor s Cibonom (1+1).
25- godišnji razigravač je posljednje četiri sezone igrao u argentinskom prvaku San Lorenzu s kojim je tri puta uzimao naslov prvaka države, a nedavno je u finalnoj seriji protiv Quimse proglašen MVP-jem. U domaćem prvenstvu je za 31 minutu provedenu u igri postizao 14,9 poena, 3,2 skoka i 4,2 asista, a u finalnoj utakmici je zabio 18 poena, uzeo 2 skoka i 2 asista, zabijao u ključnim trenucima što mu je osiguralo laskavu titulu najkorisnijeg igrača.
Trener Cibone Vladimir Jovanović je izjavio nakon dolaska Vildoze: "Pratili smo Vildozu duže vrijeme i upoznati smo s njegovom kvalitetom. Nije ga bilo lako dovesti u Zagreb i u Cibonu iz razloga što su ga pratili i za njegove kvalitete čuli i bogatiji klubovi. Mi smo to završili na vrijeme, prvi smo ušli u razgovore, predstavili mu naš plan, što od njega očekujemo i što treba donijeti klubu. Našli smo zajednički jezik i zadovoljstvo nam je što smo doveli ovako kvalitetnog igrača, argentinskog reprezentativca. Bit će nam pravo pojačanje i uz ostale igrače će činiti zbilja interesantnu vanjsku liniju. Uskoro će biti službeni dolasci i još nekih igrača. Mi smo već dugo na tom košarkaškom tržištu i nastojimo pojačati ekipu pravim, kvalitetnim igračima s dobrim karakterima koji mogu rasti skupa s ekipom i dati svoj doprinos. Nastavljamo jačanje igračkog kadra i čim to bude službeno navijači će biti pravovremeno obaviješteni."