Nikola Jović pens his first pro contract with Mega Soccerbet
Thursday, 10. June 2021 at 16:50
On Wednesday he turned 18, while on Thursday he signed his first pro contract with Mega Soccerbet!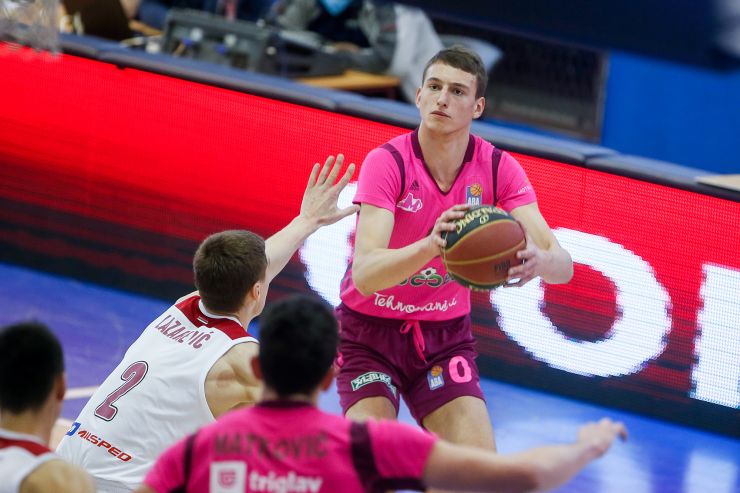 Nikola Jovic (Photo: Mega Soccerbet/Ivica Veselinov)
Nikola Jović will remain in Mega Soccerbet as he signed his first pro contract with the club!
This extremely talented player turned 18 on Wednesday, while one day later he received the best birthday present as he penned a multiyear contract with Mega Soccerbet.
Jović had a fantastic last season. He won the U19 ABA League Championship with U19 Mega Soccerbet team and was named the MVP of the tournament, while he also made his ABA League debut and had some really impressive performances in the 2020/21 ABA League campaign. Jović averaged 11,8 points and 5,5 rebounds in his first ever ABA League season.
"I've been playing for Mega youth selections for the past three years and I am very happy here. Also, I am thankful for the opportunity Mega Soccerbet gave me and for the trust the club has put in me. We have achieved a lot with hard work, especially this year, and I am very proud of all our joint successes. I am glad that I will continue to grow as a player in my club," said Jović.
--------------------------------------------------------
Nikola Jović potpisao prvi profesionalni ugovor sa Megom
U sredu je napunio 18 godina a već u četvrtak je potpisao i prvi profesionalni ugovor sa Megom!
Talentovani košarkaš Mega Soccerbet-a Nikola Jović potpisao je prvi profesionalni ugovor sa klubom! Junior Mege koji je ove sezone pokupio skoro sva moguća MVP priznanja u juniorskoj konkurenciji i u međuvremenu debitovao za prvi tim, potpisao je višegodišnji ugovor sa klubom.
Po potpisivanju ugovora sa Megom, Nikola Jović je istakao da je zahvalan svim ljudima u klubu na ukazanom poverenju i šansi:
– U Megi sam već tri godine kroz selekcije kadeta i juniora. Veoma sam zadovoljan i zahvalan svim ljudima u klubu na ukazanom poverenju i šansi koja mi je pružena. Trudom i radom smo puno postigli, pogotovo ove godine i veoma sam ponosan na sve naše zajedničke uspehe. Radujem se što produzavam svoj razvoj u mom Mega klubu, izjavio je Jović.
Nikola Jović je rođen 9.6.2003. godine u Lesteru u Engleskoj, visok je 208 centimetara i igra na pozicijama tri i dva. U redove Mege je došao 2018. godine pošto je prethodno kao gost sa Megom osvojio Mini kup za pionire, a zatim je već u prvoj sezoni sa kadetima osvojio titulu prvaka Srbije. Prošle sezone je sa juniorima bio prvi u trenutku prekida takmičenja dok je ove sezone sa juniorima osvojio juniorsku ABA ligu, Roda Juniorsku Ligu Srbije uz trijumf na kvalifikacionom turniru juniorske Evrolige u Železniku. Na svim navedenim turnirima je osvojio priznanje za najkorisnijeg igrača, a na F8 turniru juniorske Evrolige u Valensiji je beležio sjajne partije uz prosek od 18.7 poena, 9 skokova i 6.7 asistencija uz prosečan indeks korisnosti od 25.7.
Jović je u februaru debitovao za prvi tim Mege na Kupu Radivoja Koraća, dok je u ABA ligi za 24.3 minuta u proseku beležio 11.8 poena, 5.5 skokova i indeks korisnosti od 15.8. Zanimljivo je da ni na jednoj utakmici Mege u regionalnom takmičenju nije postigao ispod 10 poena.