Jackie Carmichael reinforced Cedevita Olimpija
Monday, 19. July 2021 at 21:57
We will be able to follow the games of Jackie Carmichael in the 2021/22 season in the jersey of Cedevita Olimpija. The big man is coming to Ljubljana from Laktaši, where he used to play for Igokea last season.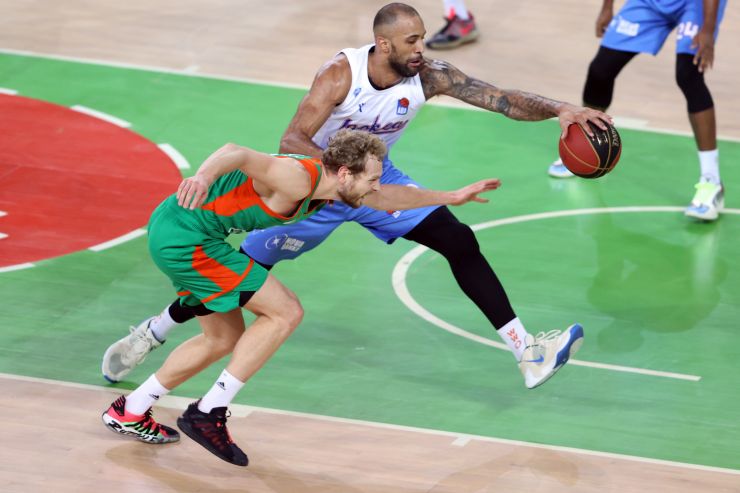 Jackie Carmichael (Photo: Cedevita Olimpija/Ales Fevzer)
Cedevita Olimpija brought another huge reinforcement to their ranks. Jackie Carmichael, a 31-year-old and 206-centimeter-tall American, successfully defended the colors of Igokea in the previous season and was one of the key players of Igokea. In the forthcoming season we will be able to follow him in the Dragons jersey.
After finishing his college career, Jackie Carmichael was not selected on the NBA League roster, and he moved to Europe to test his skills in the Bilbao jersey. His stop in Spain lasted just ten games, and at the end of 2013 he was joined by Iowa Energy, which plays in the development league of the strongest basketball competition in the world. He concluded the season successfully, as he was selected in the third five newcomers in the D-League'.
In the following seasons, Carmichael then wore the jerseys of the Maccabi Rishon, Banvit, Maccabi Ashdod, Usak, Avtodor, Al Riyadi and Unics teams, and concluded the 2018/19 season in Turkish Korkasony.
Before the start of the 2019/20 season, he moved to JL Bourg, France, where he stayed for one season, and then joined Igokea before the start of the previous season. For the team from Laktaši, which managed to make it to the Semi-finals of the ABA League, he averaged 8.4 points, 3.8 rebounds, 1.6 assists, 0.9 steals and 0.4 blocks per game in 24 games played.
As he agreed on cooperation with the Ljubljana squad, Carmichael told: "I am delighted to have joined Cedevita Olimpija. Last season I have been watching them and have seen the coach compose a great team. I am delighted to have become a part of the club's culture. I am thinking of playing for the team in the highest level all the time. I am working a lot and getting ready for the new season. I am looking forward to the day that I will meet my teammates and fans and I hope that they will be able to support us from the stands. I am ready for this step forward. I wish to win the 7Days EuroCup trophy and take the team to the EuroLeague. We have a chance to do that. I eagerly wait to come to Ljubljana and meet you all. My thanks go to the all members of the coaching staff for their trust, since they have changed my life."
---------------------
Jackie Carmichael okrepil Zmaje pod obema obročema
V dresu Cedevite Olimpije bomo v tekmovalni sezoni 2021/22 lahko spremljali Jackieja Carmichaela, ki je v minuli sezoni uspešno nastopal v Igokei.
Cedevita Olimpija je v svoje vrste uspela pripeljati še enega odličnega košarkarja, ki je bil v minuli sezoni eden od nosilcev konkurentov ljubljanskega kluba v regionalnem tekmovanju. Jackie Carmichael, 31-letni in 206 centimetrov visoki Američan, je v sezoni, ki je za nami, uspešno branil barve Igokee in bil eden od nosilcev moštva iz Laktašev, v novi sezoni pa ga bomo lahko spremljali v dresu Zmajev.
Po zaključku kariere na kolidžu, Jackie Carmichael ni bil izbran na naboru Lige NBA, v Evropi pa se je naprej preizkusil v dresu Bilbaa. Njegov postanek v Španiji je trajal zgolj deset tekem, konec leta 2013 pa se je pridružil Iowa Energy, ki nastopa v razvojni ligi najmočnejšega košarkarskega tekmovanja na svetu. Sezono je sklenil uspešno, saj je bil izbran v tretjo peterko novincev v t.i. 'D-League'.
V prihodnjih sezonah je Carmichael nato nosil drese ekip Maccabi Rishona, Banvita, Maccabi Ashdoda, Usaka, Avtodora, Al Riyadija in Unicsa, sezono 2018/19 pa sklenil v turškem Torku Konyasporu.
Pred začetkom sezone 2019/20 se je preselil v francoski JL Bourg, kjer se je zadržal eno sezono, nato pa se je pred začetkom sezone, ki je za nami, pridružil Igokei. Za ekipo iz Laktašev, ki se je uspela prebiti v polfinale Lige ABA, je na 24 tekmah v povprečju dosegal 8,4 točke, 3,8 skoke, 1,6 asistence, 0,9 pridobljene žoge in 0,4 blokade na tekmo.
Ob dogovoru z Ljubljančani je Carmichael dejal: "Navdušen sem, da sem se pridružil Cedeviti Olimpiji. Že minulo sezono sem ljubljanski klub spremljal in videl, da je trener sestavil odlično ekipo. Navdušen sem, da sem postal del kulture kluba. Ves čas razmišljam o teži tega, da bom nosil dres kluba, ki igra na tako visoki ravni. Veliko delam in se pripravljam na novo sezono. Veselim se dneva, ko bom spoznal soigralce in navijače, in upam, da bodo lahko z nami na tekmah. Pripravljen sem na korak naprej. Želim osvojiti naslov prvaka 7DAYS EuroCupa, in da z ekipo moštvo popeljemo v Evroligo. Imamo možnost, da to napravimo. Komaj čakam, da se odpravim v Ljubljano, in vse spoznam. Želim se zahvaliti vsem članom strokovnega štaba in vodstvu kluba za zaupanje, saj so mi spremenili življenje."