Maik Zirbes has returned to Crvena zvezda mts
Wednesday, 15. September 2021 at 11:41
Big Maik is coming back to Belgrade to start his 3rd stint with the red-and-whites.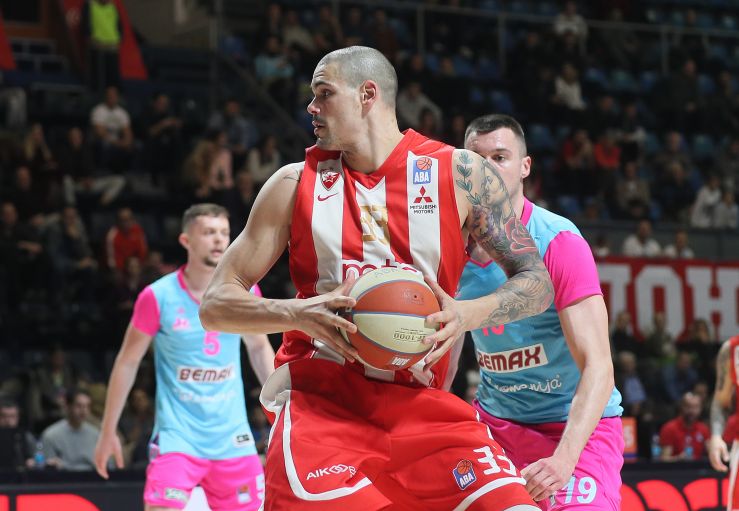 Maik Zirbes (Photo: Crvena zvezda mts)
It is official! Crvena zvezda mts have signed a contract with Maik Zirbes until the end of 2021, with an option to extend it for the rest of the season.
The 31-year-old center has therefore returned to his favorite club to start his 3rd stint with the red-and-whites.
Recall that Zirbes has previously played for Crvena zvezda mts from 2014 to 2016 and then in the 2018/19 season. What is interesting to mention is that in each season Maik Zirbes played for Crvena zvezda mts, the red-and-whites have won the ABA League title.
"I really feel privilaged to once again be part of this team. Crvena zvezda mts is my club and these guys here are my family. Now, the only thing I need to do is work hard and repay the trust the club has put in me," said Zirbes.
Maik Zirbes has spent the previous 15 days practicing with Crvena zvezda mtrs first team, so he should be ready to help the team already at the start of the new season.
------------------------------
Maik Cirbes ponovo crveno-beli
Nemački centar Maik Cirbes vraća se u Crvenu zvezdu sa kojom je potpisao ugovor do kraja 2021. godine uz opciju produžetka do kraja sezone!
Maik Cirbes se tako vraća u svoj klub i svoju kuću u kojoj je imao najveće uspehe kao igrač.
Kao igrač Crvene zvezde 31-godišnji centar visok 209 centimetara u Traben Trarbahu, osvojio je 7 trofeja (3 ABA lige, 2 prvenstva Srbije, Superkup ABA, KRK), a osim u crveno belom dresu gde se nametnuo kao jedan od najboljih centara Evrope
igrao je za Bamberg, Makabi, Bajern, kineski Guansi, Cedevitu Olimpiju i Šabab Al Ahli.
"Zaista se osećam počastvovano što sam ponovo deo ovog kluba. Crvena zvezda je moj klub i ovde je mnogo momka koji su deo ove porodice koja je i moja porodica. Sada samo preostaje da naporno radim i uzvratim ovo poverenje" rekao je Maik Cirbes.
Maik Cirbes je trenirao sa ekipom Crvene zvezde 15 dana i odmah se stavlja na raspolaganje stručnom štabu i ekipi koju prvi takmičarski meč očekuje protiv Splita krajem meseca.