Cibona win the thriller vs. Zadar
Friday, 08. October 2021 at 19:59
Cibona have won the big derby vs. Zadar on the road in a thrilling finish and has therefore kept the perfect score in the new season.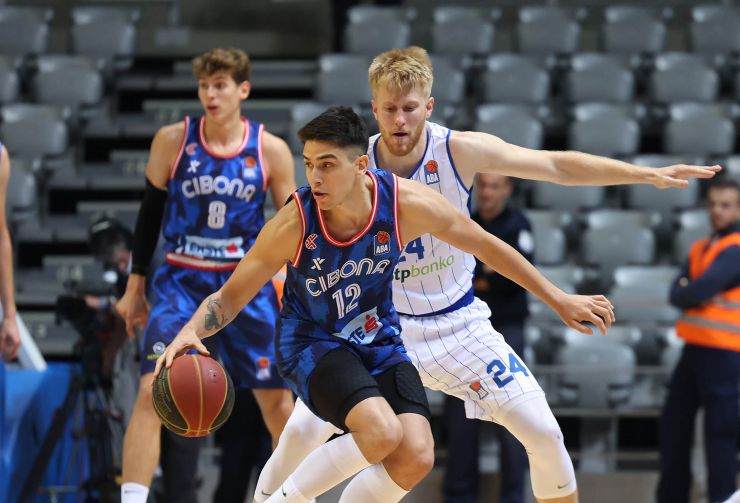 Jose Vildoza (Photo: Zadar/Zvonko Kucelin)
AdmiralBet ABA League Round 3, Friday, 8 October 2021:
Zadar - CIBONA 67:68 (18:14, 17:20, 13:13, 19:21)
Game recap: Cibona have triumphed against their arch rivals Zadar on the road in this week's match of the round! In another thrilling game between these two teams, the visitors had more concentration in the final moments and have therefore scored their 3rd win in the season.
Cibona now have the overall score of 3-0 and this is the first time since 2009 that the Wolves have opened the season with three consecutive wins. On top of that, the Zagreb side will spend the night all alone at the top of the table.
On the other side, Zadar's current situation is far from good as they have suffered their 3rd defeat in a row and they remain winless in the ongoing AdmiralBet ABA League season.
Key moments: Cibona's 18-year-old wonderkid Roko Prkačin has once again stepped up for his team in key moments. This time, Prkačin scored the key 3-pointer late in the 4th quarter to give his team a 5-point lead – 66:61. Take a look…
Man of the match: Nathan Reuvers is definitely becoming one of the best summer signings in the entire league. Cibona's big man has put up another great performance as he scored 12 points and grabbed 9 rebounds. His overall index rating was 19.
Can't trick the stats: Zadar missed just too many free throws tonight. The home team had 28 attempts from the free-throw line and they missed 11 of them.