Mega Basket survive thrilling finish to beat Krka in overtime
Sunday, 10. October 2021 at 11:59
Mega Basket managed to defend their basket in the final seconds of overtime and to therefore grab a huge win vs. Krka.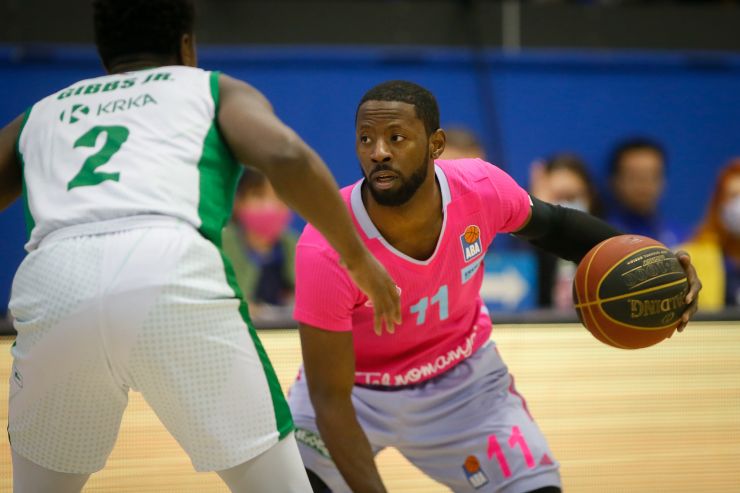 Dayshon Scoochie Smith (Photo: Mega Basket/Ivica Veselinov)
AdmiralBet ABA League Round 3, Sunday, 10 October 2021:
MEGA BASKET - Krka 73:72 (20:17, 16:16, 18:16, 13:18, 6:5)
Game recap: Mega Basket have scored their 2nd win in the 2021/22 AdmiralBet ABA League regular season as they defeated Krka in Belgrade. In another thrilling game in this season, Mega's troops managed to defend their basket in the final seconds of overtime and to therefore grab this valuable win.
On the other side, Krka had two big chances to win this match as they had the last ball-possession both in the 4th quarter and then in overtime, however they failed to score a basket in those key moments.
Mega Soccerbet now have the overall score of 2-1, while Krka are at 1-2.
Key moments: As we have previously mentioned, Krka had two chances to win the game. In the final seconds of the 4th quarter, Krka's captain Luka Lapornik went for a drive through the middle of the paint, however Mega's defense forced him to take a very difficult shot than did not go in and the game went into overtime.
In the additional five minutes, the visitors once again had a big chance to take the win as at the score of 73:72 for Mega they had enough time to organize the final play. Krka's best player in tonight's game Rok Stipčević managed to get past his defender, however his floater did not go through the basket and the score remained 73:72 for Mega Basket.
Man of the match: Dayshon Scoochie Smith was the key man for Mega Basket today. He scored 17 points, had 5 rebounds and 7 assists, while his overall index rating was 27. And on top of that, he made a huge AND-1 play in overtime that helped Mega Basket win the match.
Can't trick the stats: Krka made more rebounds than their opponents, more steals, more 3-pointers… But, they did not make the two most important shots in this match and that is why they lost the game at the end.