Budućnost VOLI keep grinding
Sunday, 31. October 2021 at 17:00
Currently, Budućnost VOLI are hosting Mornar-Barsko zlato at home in their Morača Sports Hall, Podgorica. Follow live play by play on our website.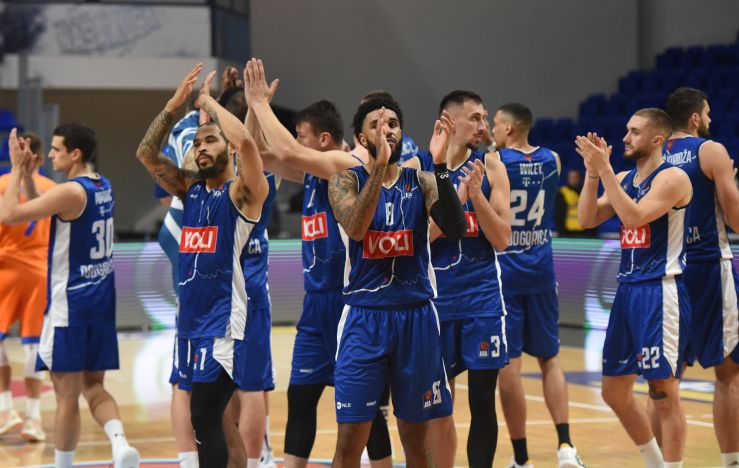 Buducnost VOLI team (Photo: Buducnost VOLI)
AdmiralBet ABA League Round 6, Sunday, 31 October 2021:
BUDUĆNOST VOLI - Mornar-Barsko zlato 85:69 (18:18, 20:18, 26:18, 21:15)
Game recap: In the sixth round of the AdmiralBet ABA League season, Budućnost VOLI have prevailed over Mornar-Barsko zlato and achieved their fourth win in a row. This way, Budućnost VOLI have grabbed their fifth win of the season and are placed in the standings just below Partizan NIS, and tied with FMP, and… Crvena zvezda mts, if the latter beats Mega Basket on Monday. On the other side, Mornar-Barsko zlato have found themselves in a bit of a crisis after six rounds, as they still keep waiting for their first triumph in the regional competition this season.
Key moments: As the teams have departed to the big break, Budućnost VOLI were in front by only a couple of points (38:36). However, the beginning of the second half was completely different. In the opening 4 minutes of the second half, the hosts went on an 11:4 run and pulled away by 9 points (49:40). As it turned out later in the game, there was no return for Mornar-Barsko zlato into the battle for the win after this blow, until the very end of the game.
Man of the match: Marko Jagodić Kuridža is the Match of the Round Hero, as he led his Budućnost VOLI towards the new win in the AdmiralBet ABA League season with 17 points, 7 rebounds, 1 block and a valuation of 25.
Can't trick the stats: Budućnost VOLI have outrebounded Mornar-Barsko zlato 34:26 and that's where the major difference between the two squads emerged.