Lovro Gnjidić shines as Cibona win the thriller vs. Borac
Saturday, 13. November 2021 at 16:59
Cibona have grabbed a huge road win as they defeated Borac in a thrilling game in Čačak.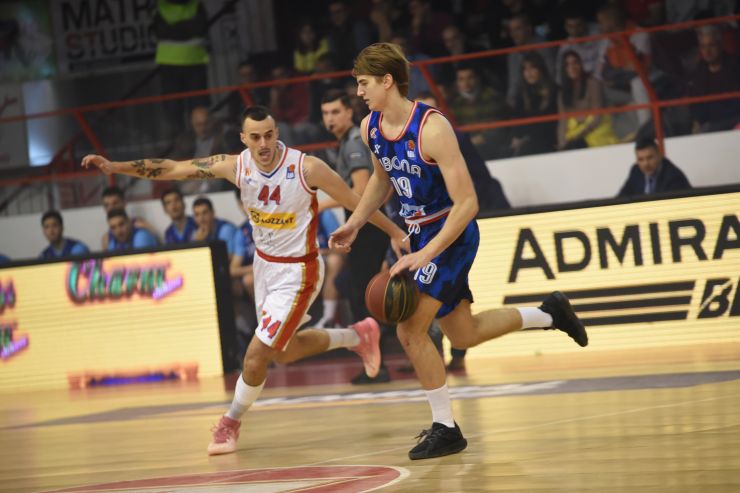 Lovro Gnjidic (Photo: Borac/Dusko Radisic)
AdmiralBet ABA League Round 8, Saturday, 13 November 2021:
Borac - CIBONA 59:62 (16:16, 18:10, 10:12, 15:24)
Game recap: Cibona have grabbed a huge road win as they defeated Borac in a thrilling game in Čačak.
As you can see by the final score, this was no really the best shooting night for each team as both Borac and Cibona struggled offensively throughout the whole game. Still, one man made the difference in this match. It was Cibona's rising star Lovro Gnjidić who scored career-high 19 points and had a career-high index rating of 30.
Gnjidić pushed his team forward in the key moments and showed that even at the age of 20 he has some major leader's skills.
Cibona now have the overall score of 5-3, while Borac are at 2-6.
Key moments: With Lovro Gnjidić on their side, Cibona have managed to come back from a 6-point deficit in the 4th quarter and to take over the lead in the crucial moments. It was Gnjidić who made the pass to Amar Gegić for the most important 3-pointer tonight, as Gegić's 3-point shot has put Cibona in front, with just over 30 seconds left on the game clock – 58:56.
Still, Borac had a big chance to tie the score and perhaps force overtime as Bojan Tomašević had 2 free throws, just 10 seconds before the end. However, Tomašević missed both free throws and Cibona grabbed the win.
Man of the match: We have already said everything about the MVP. Lovro Gnjidić has played the best game of his AdmiralBet ABA League career as he led Cibona toward a big road win in Čačak.
Can't trick the stats: Cibona were perfectly protecting their basket tonight as they had 9 blocks in this match. It is interesting to mention that Nathan Reuvers made 6 pout of those 9 blocks.