#ABAFutureStars: Day one recap
Thursday, 25. November 2021 at 20:24
The new season of the U19 ABA League Championship has started. Check out all of the scores and highlights of the Thursday's action.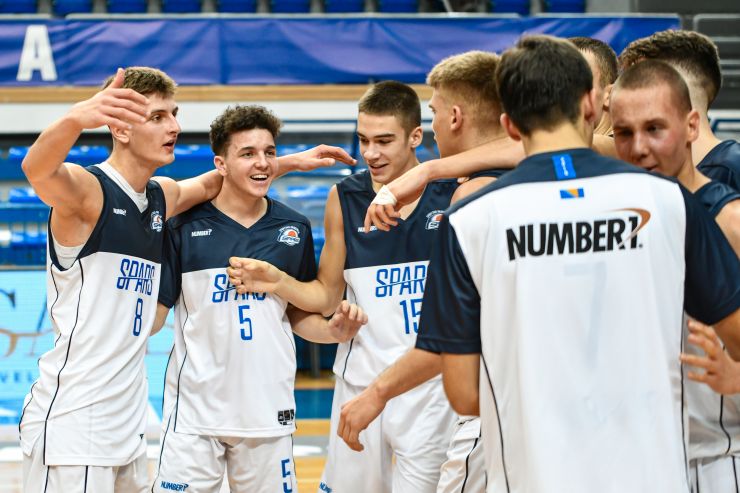 (Photo: ABA League j.t.d./Dragana Stjepanovic)
U19 ABA League Championship 2021/22, Regular Season, Thursday, 25.11.2021:
Group A:
U19 Mornar-Barsko zlato - SPARS 72:97 (15:27, 14:25, 23:24, 20:21) STATS | PHOTO GALLERY | VIDEO HIGHLIGHTS
U19 Spars have defeated U19 Mornar-Barsko zlato in the opening game of the new U19 ABA league season. The boys from Sarajevo have been dominating the court throughout the whole match, while they gained crucial lead already in the 1st half in which they scored no less than 52 points.
Harun Zrno shined in the winning team as he finished the game with 20 points and 9 rebounds. On the other side, Danilo Lacmanović was the best player in Mornar-Barsko zlato team in this match as he made 20 points and 7 rebounds.
U19 Cibona - U19 MEGA MOZZART 73:100 (20:24, 16:24, 23:27, 14:25) LIVE STATS | PHOTO GALLERY | VIDEO HIGHLIGHTS
U19 ABA League reigning champions U19 Mega Mozzart started their new regional league campaign with a win over U19 Cibona. Mega's troops were a much better team today as they were constantly increasing their lead throughout the game. And, they had a true leader down on the court who seemed almost unstoppable in some moments.
Nikola Đurišić showed in this match why he has already got a chance to play regularly for Mega Mozzart senior team in AdmiralBet ABA League. Đurišić scored 33 points, while his overall index rating was 41!
On the other side, Marko Vučić made a fantastic performance for Cibona as he finished the game with 17 points, 11 rebounds, 7 assists and 7 steals. His overall index rating was 30.
U19 SPARS - U19 Cedevita Olimpija 96:88 (20:18, 23:19, 20:21, 17:22, 16:8) STATS | PHOTO GALLERY | VIDEO HIGHLIGHTS
Spars stay atop of the Group A after 2 games played, as the Sarajevo squad have prevailed over Cedevita Olimpija following a previous win over Mornar in Round 2 and remain undefeated in the Group A of the 2021/22 U19 ABA League Championship.
It has been a dramatic encounter in which the two squads have entered overtime at the score of 80:80, where Spars have eventually prevailed on the wings of colossal performance by their best player Zinedin Mulić, who led them to the triumph wiht 31 points and a valuation of 34.
U19 Mornar-Barsko zlato - U19 BORAC 47:108 (10:28, 16:28, 13:23, 8:29) STATS | PHOTO GALLERY | VIDEO HIGHLIGHTS
In their opening game of the 2021/22 U19 ABA League Championship, U19 Borac squad have demonstrated their strength, as they have edged out the tournament hosts in Topolica Sports Hall in Bar.
The Čačak side completely dominated the floor throughout the entire game, as they have been up by 18 points after the opening 10 minutes and increased it to 30 already by halftime (56:26). In the second half, they went on to furtherly increase their advantage and celebrated with the final score of 108:47.
There were no truly outstanding individual performances for the Čačak team, as they have played as a team, with more than 6 of their players finishing in double digits and all but one scoring at least a point.
Group B:
U19 SPLIT - U19 Partizan NIS 72:68 (19:20, 21:17, 15:12, 17:19) STATS | PHOTO GALLERY | VIDEO HIGHLIGHTS
U19 Split scored a narrow win over U19 Partizan NIS at the start of the new U19 ABA League season. The Yellow troops had a double-digit lead in the 4th quarter, however Partizan NIS managed to reduce the gap to just 2 points – 66:64, with less than 2 minutes remaining on the game clock. And, the black-and-whites had a chance to tie the score or even take over the lead. However, they made a turnover that cost them a lot as Split responded with the key 4:0 run to seal the win. Petar Markota made a lay-up to extend the lead of Split to 68:64, while a few moments later Fabian Šiško made a 2-pointer to put his team in front by 6 – 70:64.
Antonio Šantić was the best player in Split with 15 points and 8 rebounds, while Ognjen Stanković made a double-double performance for Partizan NIS as he finished the match with 16 points and 11 rebounds.
U19 Zadar - U19 IGOKEA 73:83 (18:18, 20:29, 18:21, 17:15) STATS | PHOTO GALLERY | VIDEO HIGHLIGHTS
U19 Igokea have started their 2021/22 ABA League journey with a valuable win over U19 Zadar. The boys from Laktaši had a 9-point lead at the halftime, while early in the 4th quarter they were up by 15 points – 71:56. Still, U19 Zadar refused to surrender and they managed to reduce the gap to just 4 points – 77:73, with a bit over 1 minute left on the game clock.
But, that's the moment when Ognjen Radošić stepped up for U19 Igokea. Radošić scored 6 consecutive points to single-handely complete the key 6:0 run of U19 Igokea in the final moments of the game – 83:73.
Radišić was the game hero at the end, while it was his teammate Vuk Bošković who grabbed the MVP of the match award as he made 16 points and 14 rebounds which brought him the highest overall index rating in the winning team (26).
On the other side, Antonio Sikirić shined in Zadar as he scored 21 points.
U19 Partizan NIS - U19 SC DERBY 51:87 (11:19, 16:22, 13:19, 11:27) STATS | PHOTO GALLERY | VIDEO HIGHLIGHTS
U19 SC Derby have demonstrated a monster perfromance at the opening of their 2021/22 U19 ABA League Championship campaign. In their first clash of the Laktaši tournament, they have edged out U19 Partizan NIS, that have therefore suffered their second defeat of the season, following a defeat by U19 Split earlier in the day.
U19 SC Derby have been a dominant force throughout the game, leadin by 8 points after the opening quarter and by 14 at halftime. In the second half they continued to grind and celebrated the win with the final score of 87:51.
U19 Split - U19 KRKA 65:67 (16:16, 16:13, 11:22, 22:16) STATS | PHOTO GALLERY | VIDEO HIGHLIGHTS
In the last game of the night, the squads of U19 Split and U19 Krka did anything but disappoint. The game, that could have gone either way, was decided in the final moments, when the Novo mesto side appeared to be more focused than that of Split and managed to protect their 2-point advantage in the final ball possession of the opposite squad with good defense.
Split were the ones to start the game in a slightly better fashion and have been up by 3 points after the first half (32:29). Krka did a great job in the third quarter, when they have turned the flow of the game completely upside-down and were ahead by 7 points heading into the last period. Split managed to cut the gap in the final quarter and to take the lead once more, but could not hold on until the very end, when the score was 67:65 in favour of Krka.
Jaka Klobučar had an excellent performance for the winning side, as he led them towards the triumph with a double-double (19 points and 14 rebounds) and a valuation of 27.