Partizan NIS storm past Split in Round 15 opener
Wednesday, 05. January 2022 at 18:45
Partizan NIS scored a convincing win against Split in the opening game of Round 15.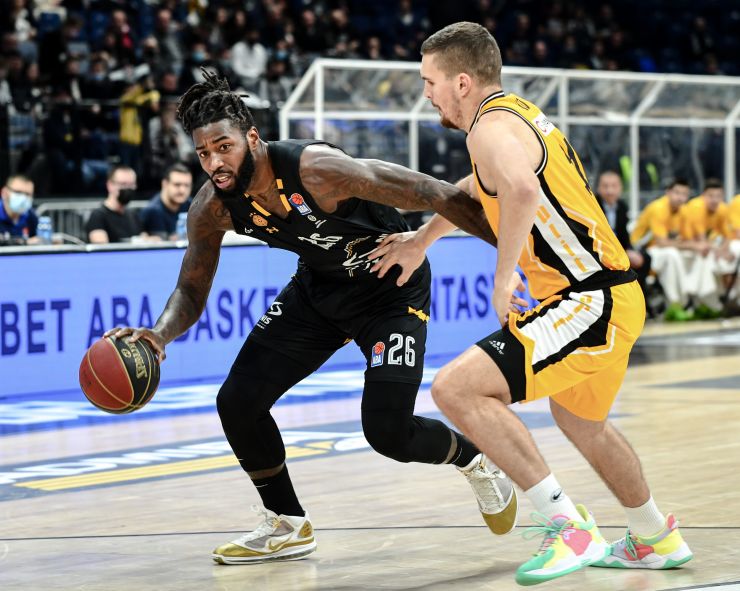 Mathias Lessort (Photo: Partizan NIS/Dragana Stjepanovic)
AdmiralBet ABA League Round 15, Wednesday, 5 January 2020:
PARTIZAN NIS - Split 109:49 (17:12, 34:5, 32:21, 26:11)
Game recap: Partizan NIS scored a convincing win against 8-man Split in the opening game of Round 15.
The black-and whites showed their full power in this match. Despite playing without Alen Smailagić, Aleksa Avramović and Nemanja Dangubić, the 10-man roster of Partizan NIS were dominating the court from start until the finish, while the final score perfectly describes just how good the Belgrade troops were today.
On the other side, Split arrived in Belgrade with just 8 players, including 1 from their junior team. With so many problems, the visitors simply had no chance against one of the best teams in the league.
Key moments: Split actually opened the game quite well as 3 minutes before the end of the 1st quarter the score was all tied – 12:12. But after that, Partizan NIS have made an incredible 39:5 run until the halftime to escape on a 34-point lead – 51:17.
Man of the match: Gregor Glas and Dušan Miletić used their chance tonight as they were the top scorers of Partizan NIS with 19 and 18 points, respectively. Both of them finished the match with the overall index rating of 27.
Can't trick the stats: Partizan NIS were just a lot better team today. The home side made 20 rebounds and 19 assists more than their rivals. And most importantly, the black-and-whites scored no less than 60 points more than Split this evening.