Remembering Mirza Delibašić – "the last romanticist of basketball"
Sunday, 09. January 2022 at 10:00
The ninth of January is the date, when one of the greatest basketball players from our region was born and we will always be happily remembering this date as the date, when the fortune has blessed us with the last romanticist of our basketball – Mirza Delibašić.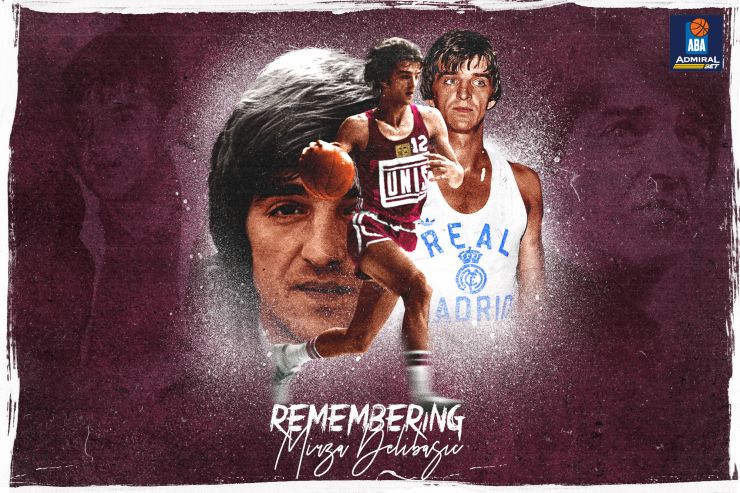 Mirza Delibasic
20 years have passed since basketball is missing one of the brightest stars that have ever shined on the sky of our region – Mirza Delibašić. With former Yugoslavia being one of the major World's powerhouses in terms of basketball, the region has always been full of the superstars of this beautiful sport – however, there are only few of them that have been honoured as the first, that have conquered the entire competition of Europe on the club level.
Legendary Bosna squad, led by nobody else but Mirza and the legendary head coach Bogdan Tanjević did it in 1979 in Grenoble and this has been the crown of Mirza Delibašić's career with the club from Sarajevo, for which he played over 700 games, scoring more than 14,000 points!
The thing that is difficult to imagine these days is the fact that Bosna, where he spent the great majority of his career was just one of the three clubs for which Mirza has ever played. A Tuzla-born player, he has begun his career with Sloboda, but has quickly outgrown his environment and moved to Sarajevo, which turned out to be his basketball home afterwards. He did not consider leaving the great Bosna, all until the final years of his career, when he moved abroad to play for and finish his career at Real Madrid.
Due to his devotion not only to his beloved club, but also the game, he is today known as the last romanticist of basketball. What kind of meaning the concept of professionalism had to him can simply be illustrated the situation when he ought to have signed his last contract of his career with Real Madrid. While he was offered a three-year contract he just waived his hand and shocked the club's president by saying that he needs no paper, since the chairman's word means enough to him. This was "Kinđe", like many say – better person than a basketball player.
And of course, as a basketball player he was a giant, that has won everything a player can possibly had won at that time – Yugoslavian national championship, European Cup of Champions, EuroBasket, World Championship and Olympic Games – you name it! His masterpieces from the court will ever be remembered, especially perhaps the decisive two free throws made against Brazil in the 1980 Olympic Games that pushed Yugoslavia into the final
It is no wonder that he has received huge honours for his contribution for the game – he was inducted into the FIBA Hall of Fame in 2007, he was named Bosnia and Herzegovina Sportsman of the Century in 2000. He was named amongst FIBA's 50 greatest players in 1991 and EuroLeague put him amongst the 50 greatest EuroLeague contributors. The basketball hall in Sarajevo today wears his name and a memorial tournament in his honour is played every year – his contribution to our basketball is impossible to forget and he is immortal in the hearts of every hardcore basketball fan in our region.