Mirko Mulalić is coming back to Ljubljana
Monday, 31. January 2022 at 15:53
Cedevita Olimpija has strengthened its ranks at the swingman position by signing with the child of the Ljubljana club, Mirko Mulalić. The player used to play for the Stožice side in the youth categories and the last time that we could watch him in Ljubljana was the 2019/20 season.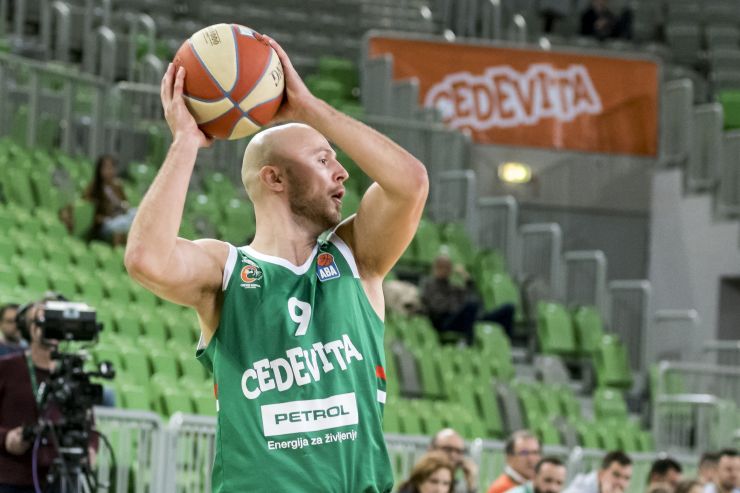 Mirko Mulalic (Photo: Cedevita Olimpija/Jurij Kodrun)
After the 2019/20 season, we will be able to watch Mirko Mulalić, the child of the Ljubljana club, in the Cedevita Olimpija jersey. The player, born in Ljubljana, is coming back to Slovenian capital after he used to wear Rabotnički and Alba Fehervar jerseys in the previous two seasons.
Mulalić has begun his senior basketball career at Union Olimpija in the 2007/08 season. Before that, he used to wear the jersey of youth categories between 2004 and 2007 and in 2008 he used to play for Triglav of Kranj on loan. He then moved to TCG Mercator, Geoplin Slovan, Velike Lašče, Grosuplje, Hopsi Polzela, Krka, Sixt primorska and Balkan Botevgrad.
Mirko Mulalić appeared in Cedevita Olimpija jersey in the 2019/20 season in the 17 regional league competition games and has been averaging 2.4 points, 0.6 assists and 0.6 rebounds per game in 12.9 minutes spent on court per game.
As he returned to the Dragons' lair, Mulalić told: "I'm happy to be back at Cedevita Olimpija. Ljubljana is my home and the Ljubljana side is the one where I made my first basketball steps so I believe that the feeling, when I finally put on the club's jersey, will be special. I wish to help the team that is already composed and where the roles are already taken, with my experience and give all I can in order for the team to fulfil its goals before the start of the season."
----------------------
Mirko Mulalić se vrača v Ljubljano
Cedevita Olimpija se je na igralnem položaju branilca ter krila okrepila z otrokom ljubljanskega kluba, Ljubljančanom, Mirkom Mulalićem. Slednji je v dresu kluba iz Stožic nastopal že v ekipah mlajših starostnih kategorij, nazadnje pa smo ga lahko v Ljubljani spremljali v sezoni 2019/20.
Po sezoni 2019/20, bomo lahko v dresu Cedevite Olimpije znova spremljali otroka ljubljanskega kluba, Mirka Mulalića. Rojeni Ljubljančan se v slovensko prestolnico vrača po tem, ko je v zadnjih dveh sezonah nosil dres Rabotničkega in Albe Fehervar.
Svojo košarkarsko pot je Mirko Mulalić začel pri takratni Union Olimpiji, svojo prvo priložnost v dresu članske ekipe pa dobil v sezoni 2007/08. Pred tem je med letoma 2004 in 2007 nosil dres mlajše članske ekipe, leta 2008 pa je kot posojeni igralec igral za kranjski Triglav. Istega leta je nato stopil na parket v barvah škofjeloškega TCG Mercatorja, kjer se je zadržal dve sezoni, nato pa leta 2010 prestopil k Geoplinu Slovanu.
Na slovenskih tleh je nosil še drese Velikih Lašč, Grosupljega, Hopsov s Polzele, pred začetkom tekmovalne sezone 2014/15 pa je odšel k novomeški Krki. Leta 2016 se je za eno sezono vrnil k Zmajem, nato leta 2017 odšel v Sixt Primorsko, sezono 2018/19 pa je preživel v Bolgariji, pri tamkajšnjem Balkanu.
Mirko Mulalić je v sezoni 2019/20 v dresu Cedevite Olimpije na parket stopil na 17 tekmah Lige ABA, na regionalni sceni je v 12,9 minutah, ki jih je preživel na igrišču, dosegal 2,4 točke, 0,6 podaje in 0,6 skoke na tekmo.
Ob povratku v Zmajevo gnezdo je Mulalić dejal: "Vesel sem, da se vračam v Cedevito Olimpijo. Ljubljana je moj dom in ljubljanski klub je ta, v katerem sem napravil svoje prve korake, zato verjamem, da bo občutek, ko znova oblečem dres, poseben. Ekipi, ki je že sestavljena in v kateri so vloge že razporejene, želim predvsem priskočiti na pomoč s svojimi izkušnjami, in dati vse od sebe, da izpolni vse cilje, zadane pred začetkom sezone."