National Cups: Eighth Croatian cup trophy for Cibona
Saturday, 19. February 2022 at 20:53
In the Croatian National Cup Finals, Cibona have prevailed over Cedevita Junior and claimed their 8th Krešimir Ćosić Cup trophy.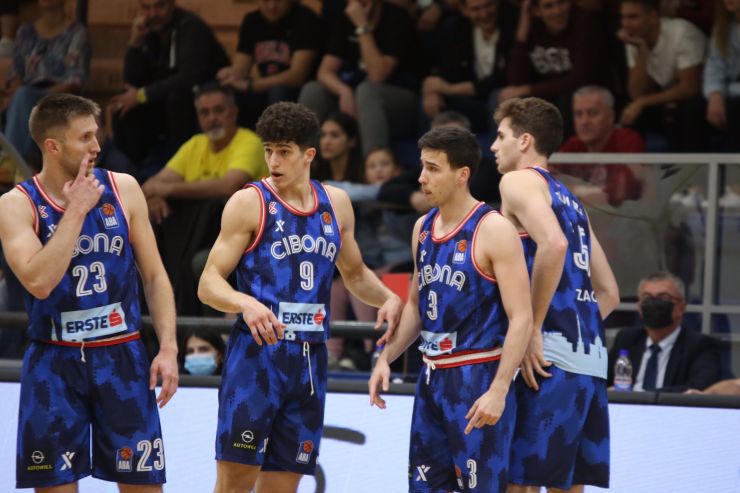 Cibona team (Photo: Split/Ivica Cavka)
It has been a tight game, where neither of the two squads managed to pull away until the finish of the clash and it have been Cibona that entered the last minute with one point of advantage (65:64). As it turned out, it has been enough for them to protect their advantage in the dying minutes, as they have celebrated the win with the final score of 67:65.
For Cibona Danko Branković led the way in scoring with 13 points on his record, while Jose Vildoza added 12 to his stats.
This is the 8th Krešimir Ćosić Cup trophy for Cibona and the first one after 2013. It is also the first trophy with Cibona under the guidance of the new head coach Gašper Okorn. On their way towards the Final, Cibona have previously beaten Zadar 77:72.
Croatian Krešimir Ćosić Cup Final, Saturday, 19 February 2022:
CIBONA - Cedevita Junior 67:65 (16:13, 16:15, 14:16, 21:21)
Branković 13, Vildoza 12 | Batinić 12, Miličević & Kučić 11.
Semi-finals, Friday, 18 February 2022:
CIBONA - Zadar 77:72 (22:13, 24:22, 15:20, 16:17)
Gegić 13, Drežnjak 12 | Jordano 16, Carter 14.
CEDEVITA JUNIOR - Split 86:82 (25:16, 25:20, 14:22, 22:24)
Bundović 19, Filipović 13, Šabić 13 | Shorter 29, Ukić 10, Runjić 10, Žganec 10.