Will Mornar-Barsko zlato keep their perfect home-court record vs. Krka?
Friday, 15. April 2022 at 13:34
Mornar-Barsko zlato will host Krka this Saturday evening in postponed game of Round 15.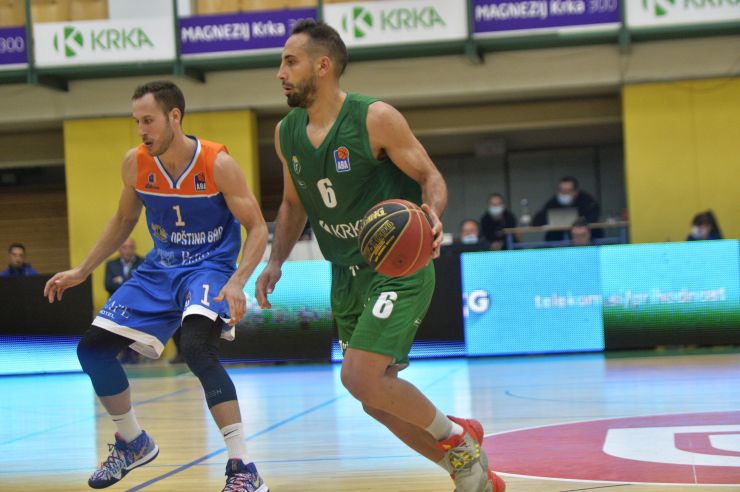 Rok Stipcevic (Photo: Krka/Drago Perko/kosarka.si)
AdmiralBet ABA League Round 15, Saturday, 16 April 2022:
Where? Topolica Sports Hall, Bar
When? 19:00
Story of the game: Mornar-Barsko zlato will host Krka this Saturday evening in postponed game of Round 15.
This game won't change much on the standings when these two teams are concerned. Mornar-Barsko zlato are safely placed in the middle of the table and they will try to use their two remaining games in the regular season to slightly improve their position on the 2021/22 standings.
On the other side, Krka will definitely finish the regular season at the last place, regardless of the outcome of their two remaining games.
Mornar-Barsko zlato will try to keep their perfect home-court record against Krka as they have triumphed in all 4 home games they have previously played against the Novo mesto crew.
Still, it must be mentioned that Krka shocked Mornar-Barsko zlato in the 1st part of the ongoing season when they defeated the Bar troops in Novo mesto by 89:80.
Match-up in focus: Mornar-Barsko zlato guard Vladimir Mihailović is probably the player who's been in best form in the entire league lately. We all remember his performance from couple of weeks ago when he scored 46 points against Mega Mozzart and broke the all-time league record in scoring.
At the same time, Krka's top scorer in this season Rok Stipčević will try to break the all-time record in most number of 3-pointers scored in a single season. Stipčević has so far scored 75 three-pointers and he needs 5 more threes to break the record of former Crvena zvezda mts player Omar Cook who scored 79 three-pointers in the 2007/08 season.
Head-to-head score in the regional league: In total 7:2; In Bar 4:0.