NLB Wheel League: Season ends on Saturday in Vransko
Friday, 13. May 2022 at 08:00
With the Vransko Tournament, the 14th NLB Wheel League season will end on Saturday.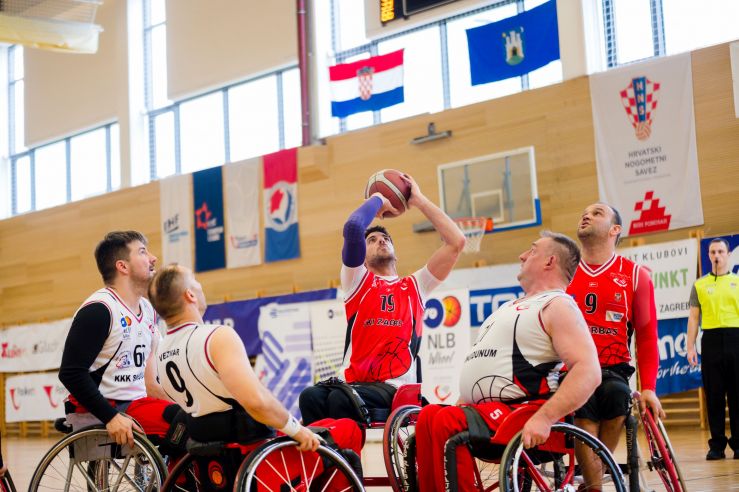 (Photo: Drago Perko/kosarka.si)
This season, the competition, that consist of teams from Serbia, Croatia, Slovenia and for the first time Montenegro, has been played in the tournaments in Belgrade, Zadar, Podgorica and Zagreb. The last tournament is coming up in Vransko. After 10 games played by each team, the champion becomes the team that gathers the biggest number of victories.
This season, the cooperation with AdmiralBet ABA League and its clubs has been furtherly deepened and with the support of the partner of both competitions, the NLB Group, the plans are being made for the forthcoming seasons as well.
NLB Wheel League Vransko Tournament, Saturday, 14 May 2022:
ParaSport Slovenija – KKK Singidunum Crvena zvezda (10.00)
KKI Zagreb – KK OSI Paramont (11.45)
KK OSI Paramont – KKK Singidunum Crvena zvezda (13.30)
Parasport Slovenia – KKI Zagreb (15.15)
NLB Wheel League Standings after 4 Rounds:
1.KKI Zagreb 12 (6 games played, 6 wins, 0 defeats)
2.Parasport Slovenia 11 (6 games played, 5 wins, 1 defeat)
3. KKOI Zadar 9 (8 games played, 1 win, 7 defeats)
4. KK OSI Paramont 8 (6 games played, 2 wins, 4 defeats)
5. KKK Singidunumu Crvena zvezda 8 (6 games played, 2 wins, 4 defeats)
Scorers list:
Ademir Demirović (KKI Zagreb) 123
Haris Kuduzović (ParaSport Slovenia) 99
Danilo Kamenik (ParaSport Slovenia) 81