Kosi the first Cedevita Olimpija reinforcement
Thursday, 16. June 2022 at 10:41
Cedevita Olimpija has their first reinforcement ahead of the new season. The AdmiralBet ABA League semi-finalists from the previous season have strengthened their frontcourt by adding Jan Kosi, the Slovenian international, who covers the power forward position.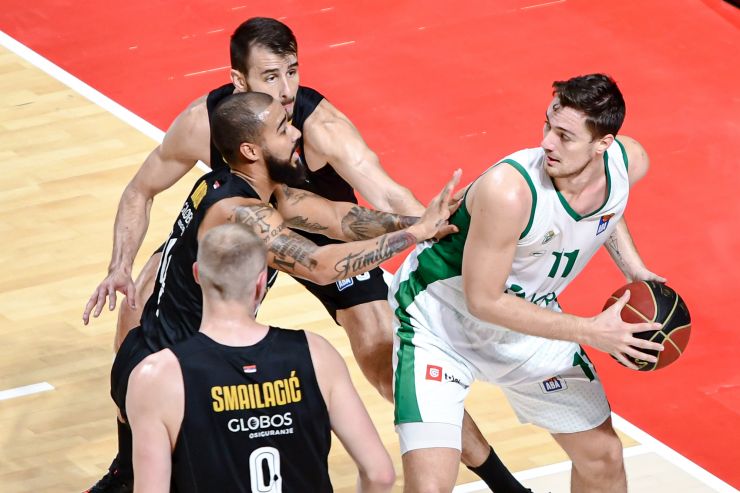 Jan Kosi (Photo: Partizan NIS/Dragana Stjepanovic)
Cedevita Olimpija have begun reinforcing their squad ahead of the 2022/23 season. They have strengthened their paint by adding former Krka power forward Jan Kosi to their roster. Kosi will stay in Ljubljana for at least two seasons.
Jan Kosi started his career in Šoštanj with Elektra, while in 2016 he moved to Koper to play for Koper Primorska, where he remained until 2020. Between 2020 and 2022 he played for Krka of Novo mesto and now he moved to Cedevita Olimpija.
In the AdmiralBet ABA League, Kosi has been averaging 7.4 points and 4.3 rebounds per game in 19 appearances.

As he joined Cedevita Olimpija, Kosi told: "I am truly happy to have joined Cedevita Olimpija. It is a club with rich history and the organization is excellent. I cannot wait to get together with my teammates and for the new season to begin and at the same time I am looking forward to playing in front of these fantastic fans."
--------------------
Jan Kosi prva okrepitev Cedevite Olimpije
Članska ekipa Cedevite Olimpije ima prvo okrepitev! Zasedbo polfinalistov AdmiralBet ABA lige iz minule sezone je okrepil krilni center Jan Kosi, ki smo ga lahko v minuli sezoni spremljali v dresu novomeške Krke.
Cedevita Olimpija je začela s kadrovskimi okrepitvami v članskem moštvu pred začetkom nove tekmovalne sezone 2022/23. Ljubljančani so se na položaju krilnega centra okrepili z Janom Kosijem. Slednji je v minuli sezoni nosil dres novomeške Krke, v Ljubljani pa bo ostal vsaj prihodnji dve sezoni.
"Zelo vesel sem, da sem se pridružil Cedeviti Olimpiji. Klub ima bogato zgodovino, organizacija pa je na vrhunski ravni," je ob podpisu pogodbe z ljubljanskim kolektivom povedal Jan Kosi. "Komaj čakam, da se s soigralci zberemo, in da se začne nova tekmovalna sezona, obenem pa se že veselim spoznavanja navijačev."
Svojo kariero je Jan Kosi začel v šoštanjski Elektri, dres moštva iz Šaleške doline pa je nosil med letoma 2013 in 2016. Sledila je selitev na slovenski Obalo, kjer je bil del Primorske vse do leta 2020. S 'tigri' je Kosi trikrat zapored osvojil naslov slovenskega pokalnega prvaka, v sezoni 2018/19 pa je postal tudi državni prvak in s Koprčani osvojil naslov prvaka druge regionalne lige.
Sledila je selitev v novomeško Krko, s katero je leta 2021 postal slovenski pokalni prvak, novomeški dres pa je nosil tudi v sezoni 2021/22 in nastopal v slovenskem državnem prvenstvu ter regionalni ligi.
Kosi, ki bo 18. oktobra dopolnil 26 let, je v sezoni 2021/22 v regionalni ligi zaigral na 19 tekmah in v povprečju dosegal 7,4 točke in 4,3 skoke na tekmo.
Slovenskim navijačem se je Jan Kosi predstavil tudi v dresu slovenske moške članske reprezentance in za izbrano vrsto zaigral v kvalifikacijah za svetovno prvenstvo leta 2019 ter kvalifikacijah za EuroBasket 2022. Nastopil je na sedmih tekmah, skupno pa dosegel 30 točk. Kosi se je v letih 2015 in 2016 predstavil tudi na dveh evropskih prvenstvih divizije A za reprezentance do 20. leta. Leta 2016 je v zaigral na sedmih tekmah in v povprečju dosegal 9,6 točke in 4,1 skoka na tekmo.