Mega Mozzart and head coach Jovanović part ways
Thursday, 16. June 2022 at 21:08
Vladimir Jovanović has ended his episode at the position of the head coach of Mega Mozzart. After two extremely successful seasons, in which he recorded great results and also managed to promote several top-level players, Jovanović and Mega are looking towards new challenges.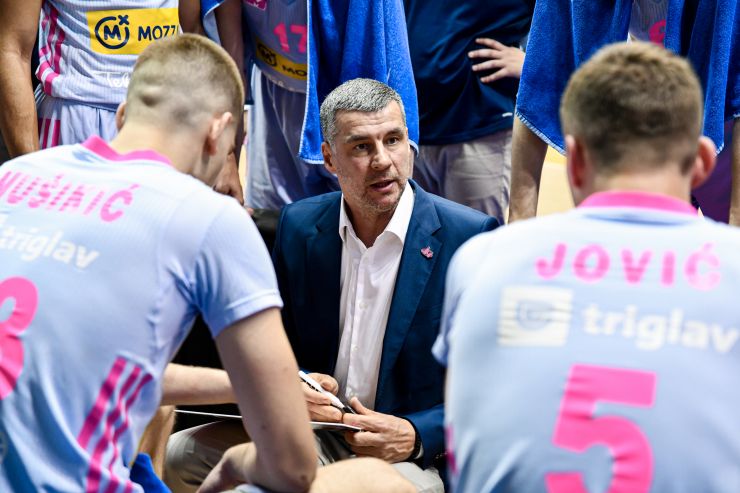 Vladimir Jovanovic (Mega Mozzart/Dragana Stjepanovic)
As he said goodbye to the club, Vladimir Jovanović has pointed out that Mega used to be and remained on the right track and that he was happy to be a part of it: "I would like to thank the entire club and system of Mega, especially General Manager Goran Ćakić for two years of excellent cooperation and all the help and support, that I used to have during this period. Thanks to all of the players, that I have cooperated with- It has been a pleasure working with them. Mega used to be and remained on the right track and I am happy to have been a part of this."
Vladimir Jovanović took over Mega Mozzart senior squad in June 2020. In his first season he led his team to the 6th place in the AdmiralBet ABA League. Last season, after some big wins in the AdmiralBet ABA League he finished on the tenth spot.
---------------------
Rastali se Mega Mozzart i trener Jovanović
Vladimir Jovanović okončao je svoj mandat na mestu šefa stručnog štaba Mega Mozzarta. Posle dve izuzetno uspešno sezone u kojima je klub imao zapažene rezultate, ali i nastavio sa već ustaljenom praksom formiranja vrhunskih igrača, Jovanović i Mega se okreću novim izazovima.
Na oproštaju od kluba Vladimir Jovanović je istakao da je Mega bila i ostala na pravom putu i da je srećan što je bio deo toga: "Želeo bih pre svega da iskoristim priliku da se zahvalim celom klubu i sistemu Mege, kao i Generalnom menadžeru Goranu Ćakiću za dve godine odlične saradnje i svu pomoć i podršku koju sam imao za to vreme. Hvala i svim igračima sa kojima sam sarađivao za to vreme. Moram da kažem da sam uživao u radu sa njima. Mega je bila i ostala na pravom putu i srećan sam što sam i ja bio deo toga."
Vladimir Jovanović je postao šef stručnog štaba u junu 2020. godine. U njegovoj prvoj sezoni posle sjajnih partija je osvojeno 6. mesto u ABA ligi. Prošle sezone je pored nekoliko velikih pobeda u ABA ligi zauzeli su 10. mesto.