Charles Jenkins reinforced FMP Meridian
Friday, 24. June 2022 at 12:35
A well-known face on the European basketball courts, Charles Jenkins, is a big reinforcement of the FMP Meridian squad for the 2022/23 season.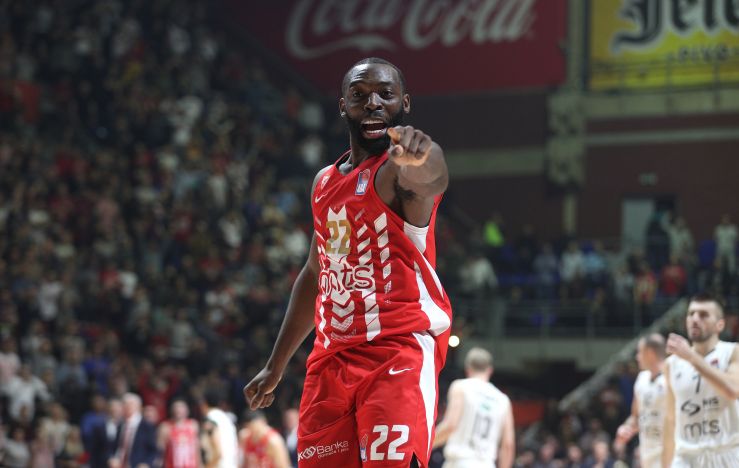 Charles Jenkins (Photo: Crvena zvezda mts)
Charles Jenkins is coming back to the AdmiralBet ABA League courts in the jersey of FMP Meriidan of Belgrade. He has started his professional career in the jersey of the reigning NBA champions Golden State Warriors. After a short period in Philadelphia, he started his European career in 2013 in the jersey of Crvena zvezda mts, where he played in three episodes. As a reliable EuroLeague guard, strong defensive player with a soft hand, he used to play in the strongest club competition in Europea in the jerseys of Olimpia Milano, Khimki and Olympiacos. He started his 2021/22 season at Tenerife, after which he made a short break in his career.
The experience and qualities of Charles Jenkins will be of great importance to the young squad of the Panthers, that will be battling on four fronts in the 2022/23 season. Let's remember the fact, that MFP Meridian will be playing in the AdmiralBet ABA League, Basketball Champions League, Serbian Radivoj Korać Cup and Serbian National League next season.
--------------------
Čarls Dženkins novo pojačanje FMP Meridiana
Dobro poznato lice na evropskim parketima, bek Čarls Dženkins veliko je pojačanje FMP Meridiana za sezonu 2022/2023.
Čarls Dženkins posle sezone pauze u karijeri vratiće se na parkete AdmiralBet ABA lige u dresu FMP Meridiana. Profesionalnu karijeru počeo je u dresu aktuelnog NBA šampiona Golden Stejt Voriorsa. Nakon kratke epizode u Filadelfiji počeo je evropsku karijeru 2013. u dresu Crvene zvezde u kojoj nastupao u tri mandata. Kao pouzdan evroligaški bek, snažan defanzivac meke ruke, nastupao je u najjačem evropskom takmičenju i u dresovima Olimpije Milano,
Himkija i Olimpijakosa. Sezonu 2021/2022 započeo je u Tenerifeu nakon čega je napravio kraću pauzu u karijeri.
Iskustvo i dobro poznati kvaliteti Čarlsa Dženkinsa biće od velikog značaja mladom sastavu Pantera u borbi na čak četiri fronta u sezoni 2022/2023. Podsećamo FMP Meridian će se u narednoj sezoni takmičiti u AdmiralBet ABA ligi, FIBA Ligi šampiona, Kupu Radivoja Koraća i Košarkaškoj ligi srbije.