Coach Radonjić leaves Crvena zvezda mts
Thursday, 30. June 2022 at 12:54
Dejan Radonjić is no longer the head coach of Crvena zvezda mts, the club confirmed.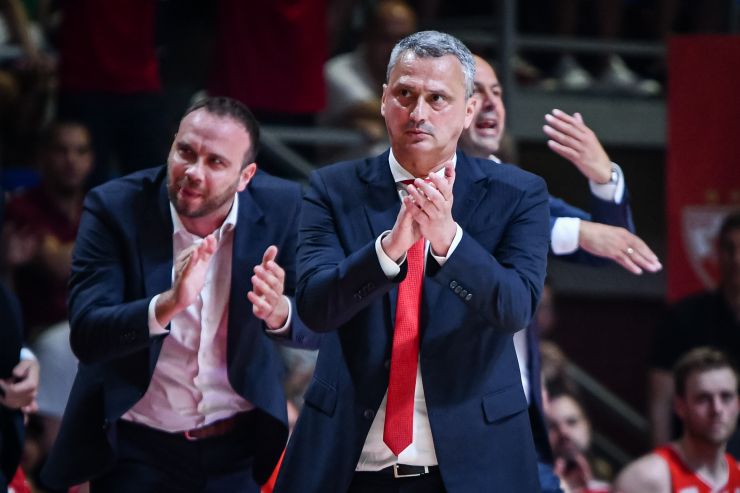 Dejan Radonjic (Photo: ABA League j.t.d./Dragana Stjepanovic)
Dejan Radonjić is no longer the head coach of Crvena zvezda mts, the club confirmed.
After his contract expired with the end of the previous season, coach Radonjić has decided to leave the Belgrade powerhouse and sign a 2-year deal with Greek side Panathinaikos Athens.
Dejan Radonjić led Crvena zvezda mts toward the triple crown in the 2021/22 season, while during his two stints with the red-and-whites (2013-2017, 2020-2022) he won 5 AdmiralBet ABA League championships, 5 Serbian national titles and 5 Serbian national cups. He was Zvezda's head coach in 453 official games which is the club's all-time record.
Crvena zvezda mts thanked Radonjić for everything he has done for the club over the past years and wished him all the best in the future.
----------------------
Dejan Radonjić nije više trener Crvene zvezde mts
KK Crvena zvezda obaveštava javnost da je dosadašnji trener našeg seniorskog tima Dejan Radonjić u četvrtak i zvanično napustio klub po zvaničnom isteku aktuelnog ugovora i potpisao ugovor sa ekipom Panatinaikosa iz Atine.
Dejan Radonjić je tokom dva mandata u kojima je sedeo na klupi Crvene zvezde (2013-2017 i 2020-2022) pet puta sa klubom osvajao ABA ligu, pet puta titulu u Superligi Srbije, kao i pet puta Kup Radivoja Koraća. Crvenu zvezdu je vodio kao prvi trener u zvaničnim mečevima na 453 utakmice, po čemu je uz osvojene trofeje, apsolutni rekorder kluba među trenerima.
KK Crvena zvezda mts ovom prilikom još jednom se zahvaljuje Dejanu Radonjiću na svemu što smo zajedno učinili tokom prethodnih godina, i želi mu mnogo zdravlja i uspeha u narednom periodu i na novom profesionalnom izazovu.