Edo Murić stays at Cedevita Olimpija
Monday, 04. July 2022 at 10:20
Edo Murić will continue wearing Cedevita Olimpija jersey. The power forward, who is also a co-captain of the Slovenia National Team, who became the first player to join the newly formed squad after the merger of Cedevita Zagreb and Petrol Olimpija, will remain a part of the Ljubljana squad.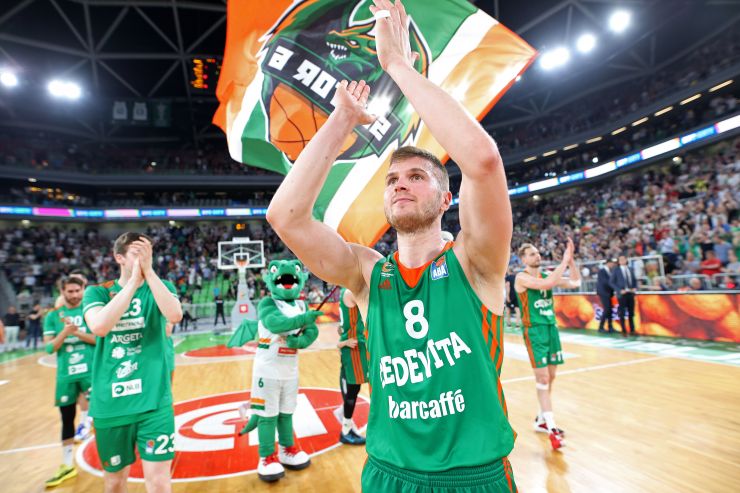 Edo Muric (Photo: Cedevita Olimpija/Ales Fevzer)
"Three years ago, we have started the story of Cedevita Olimpija in Ljubljana. During this period, the team has made steady progress from one season to another and I believe that we will continue to do so in the seasons to come. I am happy to be staying in Ljubljana. I invite all of the fans to join us at all home games, to keep making good atmospheres in our games in Stožice and Tivoli," Edo Murić told.
Edo Murić has had a great last season, in which he used to average 9.4 points, 4.9 rebounds, 1.3 assists and 0.9 steals per game in the AdmiralBet ABA League.
--------------------
Edo Murić ostaja v Cedevita Olimpiji
Edo Murić ostaja del Cedevite Olimpije. Krilni center in sokapetan slovenske moške članske reprezentance, ki je kot prvi košarkar postal del novonastalega kolektiva leta 2019, bo še naprej del moštva iz Ljubljane.
"Pred tremi leti smo v Ljubljani začeli pisati zgodbo Cedevite Olimpije, ki je v tem obdobju napredovala iz sezone v sezono in verjamem, da bomo tudi v prihodnje nadaljevali v enakem ritmu. Vesel sem, da ostajam v Ljubljani. Že zdaj vse navijače vabim, da se nam pridružijo na vseh naših domačih tekmah, in da še naprej skrbijo za vzdušje v Stožicah in Tivoliju," je povedal Edo Murić.
Za Murićem je zelo dobra sezona, v kateri je v AdmiralBet ABA ligi beležil 9,4 točke, 4,9 skokov, 1,3 asistence in 0,9 pridobljene žoge na obračun.