Alen Omić stays in Ljubljana
Tuesday, 05. July 2022 at 10:43
Alen Omić will continue to wear the Cedevita Olimpija jersey. The favorite of the Ljubljana audience will continue to give energy to Stožice Arena.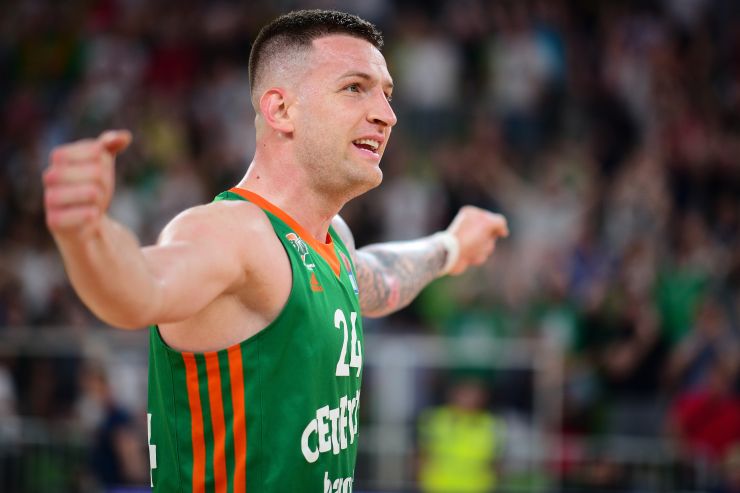 Alen Omic (Photo: Cedevita Olimpija/Ales Fevzer)
The Ljubljana fans' favourite, Alen Omić, remains in Cedevita Olimpija, and he will continue to bring energy to the court in the Stožice Arena.
"Already upon my return to Ljubljana, I said that this is my second home and I am happy to stay at Cedevita Olimpija. In the season that is behind us, we have taken a big step forward, the fans have returned to the halls and I want the stands to be full at every home game, and we will make sure that they go home satisfied. I believe that we can take a step forward in the new season, and I invite the fans to all the matches that are ahead!" said Omić.
Former Slovenian international Alen Omić joined the team of head coach Jurica Golemac at the end of November 2021. The Tuzla-born, 216-centimeter-tall big man also wore the jersey of the Ljubljana club between 2012 and 2015.
In the 2021/22 season, Omić played in 22 games in Cedevita Olimpija jersey in AdmiralBet ABA League. He averaged 8 7.9 points, 6.4 rebounds and 1.9 assists per game.
--------------------
Alen Omić še naprej pod ljubljanskima obročema
Alen Omić bo še naprej nosil dres Cedevite Olimpije. Po vrnitvi v Ljubljano v minuli sezoni, bo 216 centimetrov visoki ljubljenec ljubljanskega občinstva še naprej igral pod obročema v Stožicah.
MVP navijaških src v Ljubljani, Alen Omić, ostaja v Cedevita Olimpiji. 31-letni Omić bo tako še naprej s svojimi energičnimi predstavami navduševal ljubljansko občinstvo.
"Že ob vrnitvi v Ljubljano sem povedal, da je to moj drugi dom in vesel sem, da ostajam v Cedeviti Olimpiji. V sezoni, ki je za nami, smo napravili velik korak naprej, navijači so se vrnili v dvorane in želim si, da so tribune na vsaki naši domači tekmi nabito polne, mi pa bomo poskrbeli, da bodo domov odhajali zadovoljni. Verjamem v to, da lahko tudi v novi sezoni napravimo korak naprej, navijače pa že zdaj vabim na vse tekme, ki so pred nami!" je povedal Omić.
Nekdanji slovenski reprezentant Alen Omić se je četi glavnega trenerja Jurice Golemca pridružil konec novembra 2021. V Tuzli rojeni, 216 centimetrov visoki velikan, je sicer dres ljubljanskega kluba že nosil med letoma 2012 in 2015.
V sezoni 2021/22 je Omić v dresu Cedevite Olimpije zaigral na 22 tekmah regionalne lige. V povprečju je dosegal 7,9 točke, 6,4 skoke in 1,9 asistence na dvoboj.