Ahmaad Rorie new Mega MIS player
Wednesday, 06. July 2022 at 11:58
The American in position one arrives to Ranko Žeravica Sports Hall from the Bulgarian Balkan.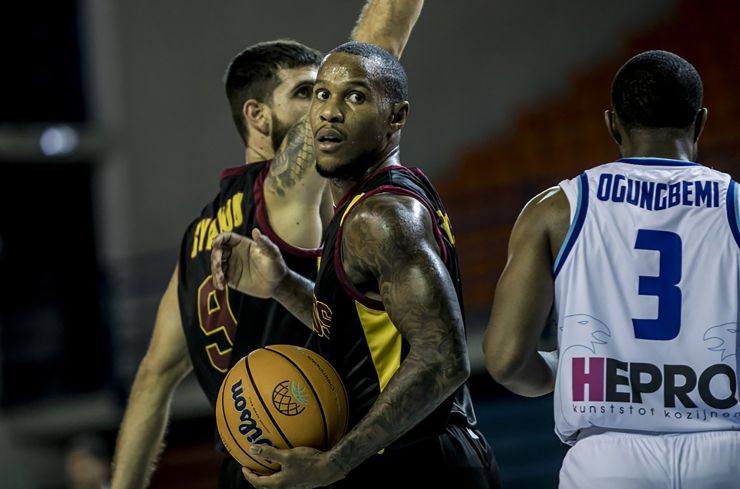 (Photo: FIBA)
Mega MIS is building a team for the next season 2022/23, as American point guard Ahmaad Rorie, who finished the previous season at Balkan of Botevgrad, signed a contract with the club. After graduating from college in 2019, the 26-year-old player first played in Cyprus for two years, and after episodes in France and Hungary, he finished last season in Bulgaria.
Ahmaad Rorie was born on September 15, 1995, he is 186 centimeters tall and plays in position one. During his NCAA career, he spent one year at Oregon, and then three years at Montana, where in the last season he recorded almost 15 points per game, along with 4 rebounds and assists. After leaving the NCAA in 2019, he played with great success for the Keravnos from Cyprus for the first two years, and then last year he started in Chalon and after a short episode in Hungary, since January he has played excellently for the Bulgarian Balkan from Botevgrad, for whom in the Bulgarian league in averaged 15.2 points, 5.1 assists and 4.3 rebounds, while in the Balkan League he averaged 13.3 points, 4.9 rebounds and 4.6 assists per match.
--------------------
Ahmad Rori novo pojačanje Mege
Amerikanac na poziciji jedan stiže u Halu sportova Ranka Žeravice iz bugarskog Balkana.
Košarkaški klub Mega MIS uveliko gradi tim za narednu sezonu 2022/23, pošto je ugovor sa klubom potpisao američki plejmejker Ahmed Rori koji je prethodnu sezonu završio u Balkanu iz Botevgrada. Dvadesetšestogodišnji plej je po završetku koledža 2019. godine prvo igrao na Kipru dve godine, a posle epizoda u Francuskoj i Mađarskoj, prošlu sezonu je završio u Bugarskoj.
Ahmad Rori je rođen 15. septembra 1995. godine, visok je 186 centimetara i igra na poziciji jedan. Tokom NCAA karijere je jednu godinu proveo na Oregonu, a potom i tri godine u Montani, gde je u poslednjoj sezoni beležio skoro 15 poena po meču, uz 4 skoka i asistencije. Po odlasku iz NCAA 2019. godine je prvo dve godine sa velikim uspehom nastupao za kiparski Keravnos, da bi prošlu sezonu započeo u Šalonu i posle kraće epizode u Mađarskoj, od januara je odlično igrao za bugarski Balkan iz Botevgrada za koji je u Bugarskoj ligi u proseku beležio 15.2 poena, 5.1 asistenciju i 4.3 skoka, dok je u balkanskoj ligi 13.3 poena, 4.9 skokova i 4.6 asistencija po meču.