Lovro Gnjidić joins Cedevita Olimpija
Thursday, 07. July 2022 at 10:47
Ahead of the new 2022/23 season, Cedevita Olimpija strengthened its point guard position with 21-year-old talented player Lovro Gnjidić. The latter signed a two-year contract with the Ljubljana's squad.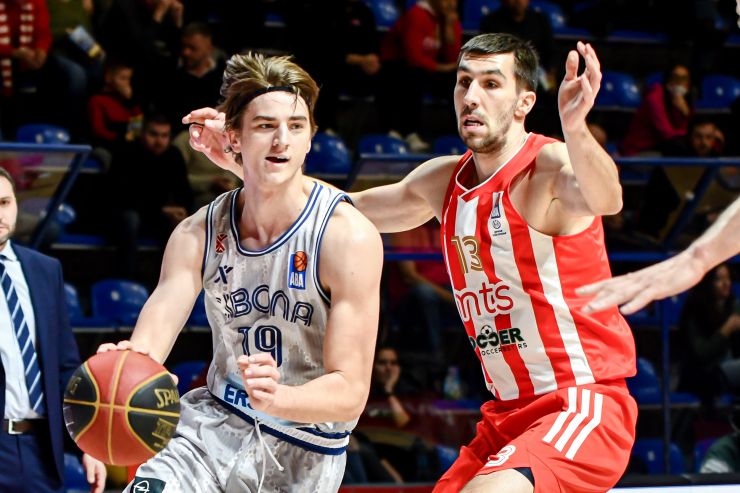 Lovro Gnjidic (Photo: AdmiralBet ABA League/Dragana Stjepanovic)
Cedevita Olimpija continues to strengthen its senior team for the start of the 2022/23 season. At the point guard position, the Ljubljana team strengthened its ranks with Lovro Gnjidić, a 197-centimeter-tall player who wore the jersey of Cibona last season. Gnjidić will remain in Ljubljana at least until the end of the 2023/24 season.
"I am looking forward to coming to Cedevita Olimpija. I think it's definitely a step forward for me to join such a tough team. I know that practices with coach Golemac are great and my goal is to improve as much as possible during this season and of course to make the best possible result," said Gnjidić upon joining Cedevita Olimpija.
Lovro Gnjidić spent his entire basketball career in Zagreb's Cibona. He grew up within the club's junior teams from the Croatian capital, and in 2020 he also began his professional career there. In the 2021/22 season, Gnjidić appeared in 25 AdmiralBet ABA League matches. He spent an average of 21.6 minutes on the floor, scoring 5.6 points, 3.8 assists and 2.7 rebounds.
-----------------------
Lovro Gnjidić okrepil Cedevita Olimpijo
Na položaju organizatorja igre se je Cedevita Olimpija pred novo tekmovalno sezono 2022/23 okrepila z 21-letnim nadarjenim košarkarjem Lovrom Gnjidićem. Slednji je z ljubljanskim kolektivom podpisal dveletno pogodbo.
Cedevita Olimpija nadaljuje s krepitvijo članske ekipe za začetek tekmovalne sezone 2021/22. Na položaju organizatorja igre se je ljubljanski kolektiv okrepil z Lovrom Gnjidićem, 197 centimetrov visokim hrvaškim košarkarjem, ki je v minuli sezoni nosil dres zagrebške Cibone. Gnjidić bo v Ljubljani ostal vsaj do zaključka sezone 2023/24.
"Vesel sem, da prihajam v Cedevito Olimpijo. Prihod v resen klub, ki med drugim nastopa tudi v 7DAYS EuroCup, je zame zagotovo velik korak. Vem, da se pri glavnem trenerju Jurici Golemcu dobro dela, moj cilj pa je, da tekom sezone čim bolj napredujem, in da ekipa sezono zaključi s čim boljšimi rezultati," je ob podpisu pogodbe s Cedevito Olimpijo povedal mladi Gnjidić.
Svojo celotno košarkarsko kariero je Lovro Gnjidić preživel v zagrebški Ciboni. Odrastel je v okviru ekip mlajših starostnih kategorij kluba iz hrvaške prestolnice, leta 2020 pa je tam tudi začel svojo profesionalno kariero. V tekmovalni sezoni 2021/22 je Gnjidić zaigral na 25 tekmah AdmiralBet ABA Lige. V povprečju je na parketu preživel 21,6 minute in v tem času dosegal 5,6 točke, 3,8 asistence in 2,7 skoke na obračun.