Crvena zvezda mts appoint Vladimir Jovanović as new head coach
Friday, 08. July 2022 at 17:04
Vladimir Jovanović is the new head coach of Crvena zvezda mts, the club announced. The two sides signed a 3-year contract.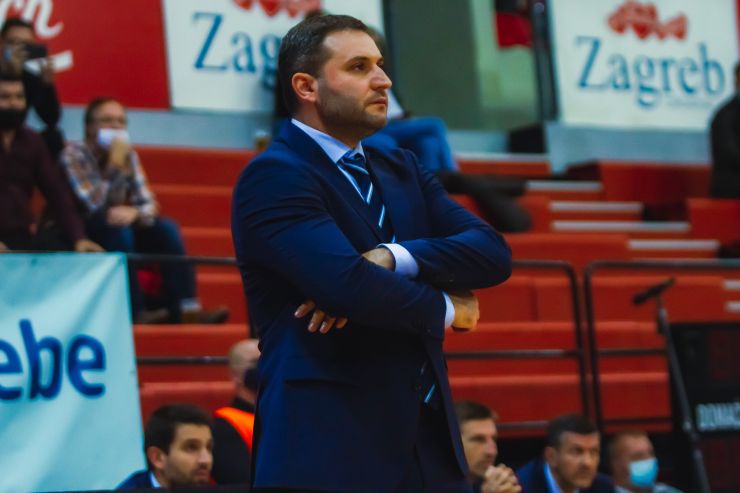 Vladimir Jovanovic (Photo: Cibona/Mihal Jacic)
Vladimir Jovanović is the new head coach of Crvena zvezda mts, the club announced. The two sides signed a 3-year contract.
Jovanović is a well-known face for all AdmiralBet ABA League fans as he was the head coach of FMP Meridian from 2017 to 2020, while in the previous season he was the head coach of Cibona.
He also worked as an assistant to Igor Kokoškov in the Serbian senior national team, while he's been leading Serbian U20 national team since December 2021.
It is also worth mentioning that Vladimir Jovanović is well-familiar with Crvena zvezda mts system as he started his coaching career by working in Crvena zvezda mts youth selections.
Crvena zvezda mts have also announced that 4-time AdmiralBet ABA League champion Marko Simonović will be the 1st assistant of Vladimir Jovanović, while Miodrag Dimić will also be included in the coaching staff.
Club legend Nebojša Ilić will be the team General Manager in the following season.
--------------------------------------
Vlada Jovanović novi trener KK Crvena zvezda mts
Bivši pomoćnik selektora A reprezentacije Srbije, i aktuelni selektor reprezentacije Srbije za igrače do 20 godina, nekadašnji trener Cibone i FMPa i Vlada Jovanović, novi je trener košarkaša Crvene zvezde.
Jedan od najtalentovanijih trenera mlađe generacije iz Srbije, potpisao je u petak trogodišnji ugovor sa Crvenom zvezdom.
Ovaj 38-godišnji trener prve trenerske korake napravio je kao trener mlađih selekcija Crvene zvezde još 2012.godine, a tokom tri sezone na prvom poslu kao seniorski trener KK FMP (2017-2020) bio je jedno od velikih iznenađenja cele ABA lige i novo ime među domaćim mladim trenerima koji je na sebe skrenuo pažnju.
Nakon toga sa vrlo mladom ekipom Cibone, kao prvi srpski trener u Republici Hrvatskoj u poslednjih 30 godina ostvario je zapažene rezultate i promovisao nekoliko talentovanih mladih igrača tog kluba.
Tokom 2019.godine promovisan je u jednog od pomoćnika selektora A reprezentacije Srbije pod vođstvom Igora Kokoškova,a trenutno je selektor reprezentacije za igrače do 20 godina. Na tom mestu je od decembra 2021.godine.
Vlada Jovanović je trener koji dolazi iz sistema kluba, u prethodnom periodu pokazao se na nekoliko vrlo odgovornih poslova kao trener, a imenovanje za prvog trenera KK Crvena zvezda je naredni korak i izazov na kome se očekuje da pokaže sve svoje kvalitete i potencijal kao trener.
U stručnom štabu prvog trenera Vlade Jovanovića, nalaze se Marko Simonović kao prvi pomoćnik, i Miodrag Dinić, dok će o dodatnim članovima stručnog štaba na klupi našeg kluba javnost biti blagovremeno obaveštena. Nebojša Ilić biće u narednoj sezoni generalni menadžer prvog tima KK Crvena zvezda.