Vasilije Pušica reinforced FMP Meridian
Saturday, 09. July 2022 at 12:05
FMP Meridian completed its roster for the 2022/23 season. The last reinforcement of the Panthers ahead of the extremely challenging season that brings them battle on four fronts is guard Vasilije Pušica.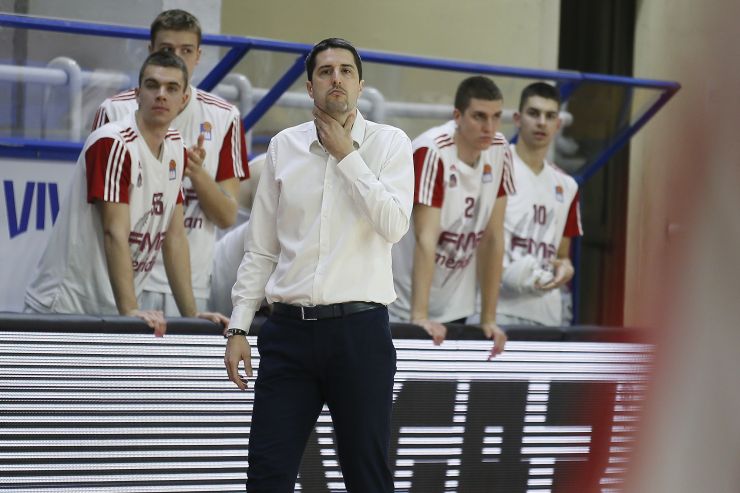 Nenad Stefanovic (Photo: FMP Meridian)
Vasilije Pušica, who covers both guard positions and is famous for his excellent shooting abilities and great court vision, has signed a two-year agreement. Popular Vasa has previously played for the San Diego University and Norh-Eastern Uniersity and started his professional career playing for Partizan NIS.
Later he moved to Italy, where he played for Pesaro and Dinamo Sassari. Pušica started the 2021/22 season in Lithuania, playing for Labas GAS Prienai and finished it in the Basketball Champions League, playing for Galatasaray.
Pušica used to be the Serbia U16 and U18 national teams.
By signing with Pušica, FMP Meridian has completed its roster for the 2022/23 season. Vasilije represents the eighth reinforcement of the Panthers ahead of the season. Entire coaching staff and Ranko Simović have extended their contract with the Belgrade squad, while Trent Frazier, Charles Jenkins, Ognjen Matović, Luka Vudragović, Andrija Vuković, Beau Beech and now Vasilije Pušica have arrived to the squad.
The Panthers will undergo first practice in full strength on 1 August. The beginning of their season is scheduled for 21 September, when FMP Meridian will play its Quarter-final game of the qualifying tournament of the Basketball Champions League against Rio Breogan.
--------------------
Vasilije Pušica pojačao FMP Meridian
FMP Meridian je kompletirao tim za sezonu 2022/2023. Poslednje pojačanje Pantera uoči veoma izazovne sezone koja nosi borbu na čak četiri fronta je bek Vasilije Pušica.
Pušica (196cm, 26) koji pokriva obe bekovske pozicije i karakteriše ga sjajan šut, ali i veoma dobar pregled igre, potpisao je dvogodišnji ugovor. Popularni Vasa je pohađao Univerzitete San Diego i Nortistern, a potom profesionalnu karijeru započeo u dresu Partizana NIS.
Usledila je selidba u Italiju gde je igrao najjače takmičenje kao prvotimac Pesara, a potom i Dinamo Sasarija. Pušica je počeo sezonu 2021/2022 u Litvaniji gde je nastupao za Labas GAS Prienai, a istu završio u dresu turskog Galatasaraja sa kojim je nastupao u FIBA Ligi Šampiona.
Trebalo bi istaći i da je Pušica nosio dres reprezentacije Srbije do 16 godina na Evropskom prvenstvu u Češkoj, kao i da je nastupao za selekciju Srbije do 18 godina na Evropskom prvenstvu u Letoniji 2013. godine.
FMP Meridian je potpisom Vasilija Pušice formirao roster za sezonu 2022/23. Vasilije Pušica predstavlja osmo pojačanje Pantera za sezonu 2022/23. Podsećamo da su kompletan stručni štab i Ranko Simović stavili paraf na nove ugovore, a u sastav FMP Meridiana došli: Trent Frejzer, Čarls Dženkins, Ognjen Matović, Luka Vudragović, Andrija Vuković, Bo Bič i Vasilije Pušica.
Panteri će prvi trening u novoj sezoni odraditi u punom sastavu 1. avgusta. Početak sezone je 21. septembra kada će FMP Meridian igrati četvrtfinalnu utakmicu kvalifikacionog turnira FIBA Lige Šampiona protiv ekipe Rio Breogan.