Branko Lazić pens new 2-year deal with Crvena zvezda mts
Wednesday, 13. July 2022 at 17:51
Back-to-back AdmiralBet ABA League defensive player of the year Branko Lazić is staying in Crvena zvezda mts!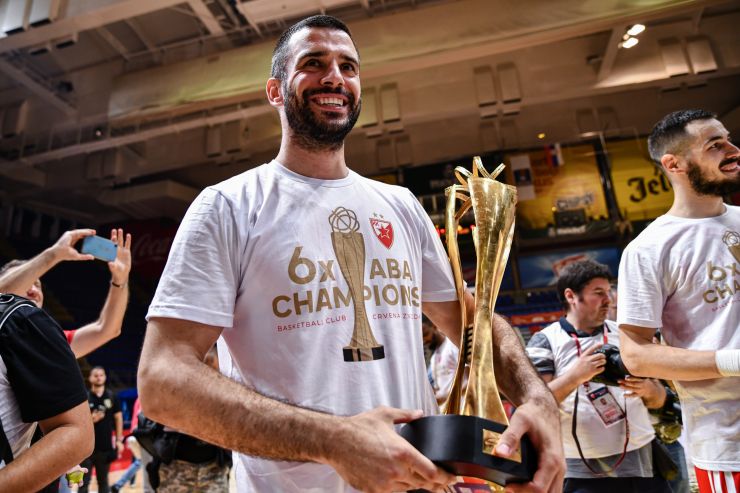 Branko Lazic (Photo: ABA League j.t.d./Dragana Stjepanovic)
It is official! Team captain Branko Lazić is staying in Crvena zvezda mts as he signed a new 2-year contract with the red-and-whites.
Branko Lazić spent the last 11 seasons in Crvena zvezda mts, while with the following two he will tie with club legends Vladimir Cvetković and Dragiša Vučinić who played 13 seasons for the Belgrade giant. The only man in front of them remains another club legend Slobodan Nikolić who spent 14 years among the red-and-whites.
Over the past 11 years, Branko Lazić has set numerous club records. He played 697 games for Crvena zvezda mts and won 20 trophies along the way. With 3,148 points scored for Crvena zvezda mts in all competitions he holds the 14th spot on the club's all-time top scorers list.
Branko Lazić has so far won 6 AdmiralBet ABA League championships which makes him the player with the most championship rings in the regional league. He also won two consecutive AdmiralBet ABA League Best Defensive Player awards (2021, 2022).
On top of all individual and club awards, Lazić has also won the silver medal with Serbian national team at the 2017 FIBA EuroBasket.
---------------------------------------
Kapiten produžio ugovor sa Crvenom zvezdom
Kapiten Crvene zvezde i rekorder kluba po broju odigranih utakmica i osvojenih trofeja Branko Lazić, produžio je u sredu ugovor sa klubom na još dve (1+1) sezone.
Čovek koji je sinonim za vernost, istrajnost, uspehe i čvrstinu Crvene zvezde u poslednjih 11 godina, tako će ostati u crveno belom dresu sa novim ugovorom punih 13 sezona, čime će se izjednačiti sa takođe legendama kluba Vladimirom Cvetkovićem i Dragišom Vučinićem. Ispred njih sa 14 sezona u dresu Crvene zvezde ostaje još jedna legenda kluba Slobodan Nikolić.
Naš Laza je rekorder kluba u bukvalno svim statističkim parametrima. Godinama jedan od najboljih defanzivaca u Evropi i najbolji u ABA ligi (dva puta biran za najboljeg defanzivca regionalne lige), odigrao je 697 utakmica u crveno belom dresu, osvojo je 20 trofeja (6 aba liga, 7 titula prvaka Srbije, 6 kupova Srbije i Superkup ABA lige) odigrao je najviše evropskih utakmica čak 233, a sa 3148 poena je trenutno 14. na večitoj listi strelaca KK Crvena zvezda.
Branko Lazić koji je rodom iz Ljubovije (12.01.1989), prve korake napravio je u KK FMP 2007.godine, a u Crvenu zvezdu je prešao 2011.godine. Sve ostalo je istorija – pobede, uspesi, pehari uz koje su se svih ovih godina nizali i rekordi.
Pored klupskih uspeha, Branko Lazić je i osvajač srebrne medalje na EP 2017. godine sa A selekcijom reprezentacije Srbije.