Dalibor Ilić is the new reinforcement of Crvena zvezda mts
Thursday, 14. July 2022 at 19:38
Serbia National Team member and former Igokea m:tel player Dalibor Ilić is the new reinforcement of Crvena zvezda mts.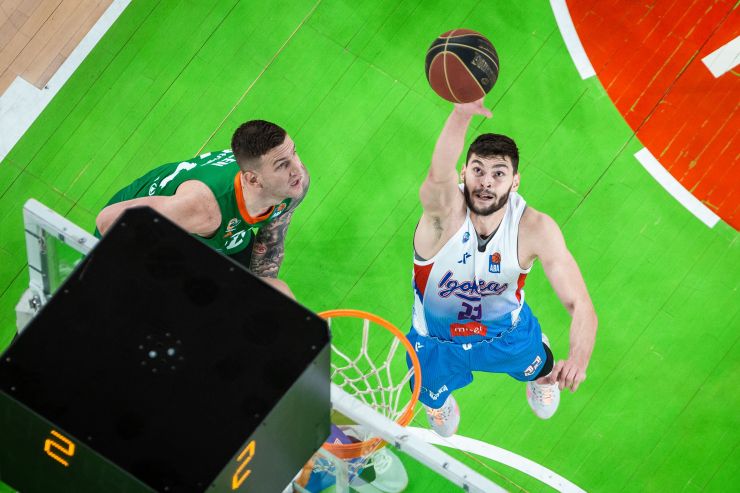 Dalibor Ilic (Photo: Cedevita Olimpija/Jure Banfi)
Dalibor Ilić, who signed a 4-year contract with the red and white, can cover positions 3 and 4, and is 202 cm tall.
He has been born in Višegrad in 2000 and as one of the most talented players of his age, he reinforced Igokea m:tel in 2016.
Two years later, he has won the gold medal at the European Championship in Latvia and he has crowned his constant progress in recently finished season in the AdmiralBet ABA League, where he used to be one of the best individuals of the season, setting the second-best achievement by any player in the single-game valuation (49).
He has also been one of the best rebounders of the regional league, is Serbian international and a player with rich future ahead of him.
----------------------
Dalibor Ilić novo pojačanje Crvene zvezde mts
Reprezentativac Srbije i bivši igrač Igokee m:tel Dalibor Ilić novo je pojačanje Crvene zvezde mts.
Ilić, koji je potpisao 4-godišnji ugovor sa crveno belima, može da pokriva pozicije 3 i 4, visok je 202 centimetara i težak 94 kilograma.
Rođen je u Višegradu 2000.godine, a kao jedan od najtalentovanijih igrača koji su rođeni na prelasku u 21.vek pojačava ekipu Igokee m:tel 2016. godine.
Samo dve godine kasnije osvaja sa reprezentacijom Srbije zlatnu medalju na EP u Letoniji, a konstantan napredak krunisao je u upravo završenoj sezoni u AdmiralBet ABA Ligi gde je osim mesečnih nagrada za najkorisnijeg igrača regionalne lige, drugog najboljeg postignuća po broju indeksnih poena (49) u jednoj utakmici ove lige bio i jedan od najboljih igrača regionalnog takmičenja.
Jedan je od najboljih skakača regionalne lige, reprezentativac Srbije i igrač pred kojim je budućnost.
Angažovanjem Dalibora Ilića, KK Crvena zvezda je povećao broj domaćih igrača u rosteru za takmičarsku 2022-2023, povećao broj akvizicija za novu sezonu na 4 (Nedović, Martin, Holand…) ali i podmladio tim vrlo talentovanim igračem koji je budućnost srpske košarke.