Budućnost VOLI sign contract with Canadian international Trae Bell-Haynes
Friday, 15. July 2022 at 10:52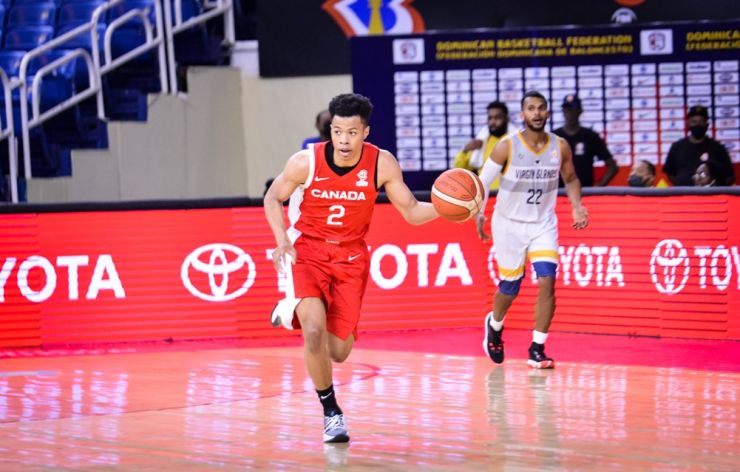 Trae Bell-Haynes (Photo: FIBA)
Budućnost VOLI have made their 4th signing this summer as they penned a deal with Canadian point guard Trae Bell-Haynes.
In the previous season, Bell-Haynes played for the Spanish side Rio Breogan where he averaged 12.7 points, 3 rebounds and 4 assists per match.
This 26-year-old point guard was born in Toronto, while he spent his entire college career at the Vermont University. He was one of the best players of the Vermont Catamounts, while he averaged 11.7 points, 3 rebounds and 4 assists per match during his college career.
Trae Bell-Haynes made his European debut in 2018 when he joined German team Fraport Skyliners. He then went on to play for Finish team Helsinki in the 2019/2020 season, while after that he returned to Germany to join Crailsheim Merlins for the 2020/21 season.
While playing for Crailsheim Merlins, Bell-Haynes averaged 17.9 points, 3.9 rebounds and 7.1 assists.
Trae Bell-Haynes also had a short stint in the NBA G League where he played for thr Wisconsin Herd in 2019.
Recall that Budućnost VOLI have so far added 4 new players to their 2022/23 roster, including Trae Bell-Haynes, Kenan Kamenjaš, Phil Booth and Cameron Reynolds.
------------------------------
Kanadski reprezentativac u "plavo-bijelom" dresu!
Tre Bel-Hejns, kanadski reprezentativac, četvrto je pojačanje Budućnost Volija za sezonu 2022/23. Dvadesetšestogodišnji košarkaš je visok 188cm i pokriva poziciju plejmejkera.
Bel-Hejns rođen je u Torontu i četiri godine je proveo na Univerzitetu Vermont gdje je bio jedan od glavnih igrača, prije svega kao organizator igre. U svojoj koledž karijeri prosječno je bilježio 11.7 poena, 3 skoka i 4 asistencije.
Odlične organizacione sposobnosti i pronalaženje saigrača glavno je "oružje" kanadskog pleja, ali ga krasi i solidan šut i eksplozivnost na ulazu.
Hejns je igrao u razvojnoj ekipi Milvoki Baksa, dok je u Evropi debitovao u sezoni 2018/19 sa Fraport Skajlajnersima.
Naredne sezone je nastupao u Finskoj za Helsinki, da bi u sezoni 2020/21 odigrao sjajnu sezonu u njemačkoj ligi za Merlins Kraisleim. Prosječno je bilježio 17.9 poena, 3.9 skokova, 7.1 asistencije uz 1.2 ukradene lopte.
Prethodne sezone je nastupao u španskoj ACB ligi za Breogan Lugo za koje je prosječno postizao 12.7 poena uz 3 skoka i 4 asistencije.