Marko Jeremić moves from Bar to Ljubljana
Tuesday, 26. July 2022 at 12:19
Before the start of the 2022/23 season, Cedevita Olimpija's backcourt was strengthened in the with Marko Jeremić, who wore the jersey of Mornar-Barsko zlato in the last two seasons.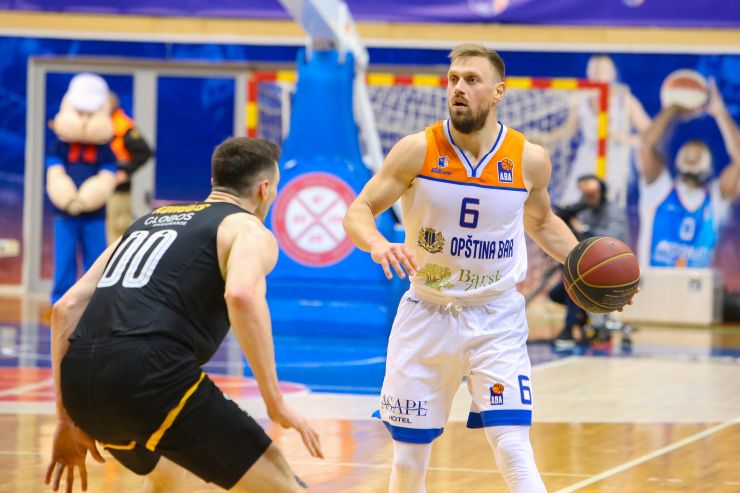 Marko Jeremic (Photo: Mornar-Barsko zlato/MEDIA Pro)
Cedevita Olimpija's squad has been strengthened at the defender position with Serbian international Marko Jeremić. 30-year-old Jeremić has experience of playing in the regional league, as in the last two seasons he wore the jersey of Montenegrin Mornar-Barsko zlato, and before that he was a member of FMP Meridian.
"I am very happy to be joining Cedevita Olimpija. The Ljubljana club had phenomenal results in both international competitions last season and I hope that the upcoming season will be even more successful. I invite all fans to stand by us and support us throughout the season!" said Jeremić upon joining Cedevita Olimpija.
Born in Novi Sad, Marko Jeremić began his professional career in Vojvodina, where he stayed until 2015, followed by a transfer to Mladost Mrkonjić Grad, where he stayed for one season. This was followed by a move to Napredak Kruševac, he was also part of this team for one season, and then he joined FMP Meridian, where he played between 2017 and 2020. For the last two seasons, Jeremić was a member of Mornar-Barsko zlato.
He appeared in 26 games in the AdmiralBet ABA League and had 10.1 points, 1.8 rebounds and 1.2 assists per game.
Jeremić made his debut in the national team of Serbia in the EuroBasket 2022 Qualifiers in 2020, and he played in two matches.
--------------------
Marko Jeremić je novi član Cedevita Olimpije
Na igralnem položaju branilca se je člansko moštvo Cedevite Olimpije pred začetkom tekmovalne sezone 2022/23 okrepilo z ostrostrelcem Markom Jeremićem, ki je v zadnjih dveh sezonah nosil dres črnogorskega Mornarja-Barsko zlato.
Članska zasedba Cedevite Olimpije se je na igralnem položaju branilca okrepila s srbskim reprezentantom Markom Jeremićem. 30-letni Jeremić ima izkušnje z igranjem v regionalni ligi, v zadnjih dveh sezonah je nosil dres črnogorskega Mornarja, pred tem pa je bil član FMP Meridiana. Z ljubljanskim kolektivom je Jeremić sklenil pogodbo za sezono 2022/23, z možnostjo podaljšanja za sezono 2023/24.
"Zelo srečen sem, da prihajam v Cedevito Olimpijo. Ljubljanski klub je imel minulo sezono fenomenalne rezultate v obeh mednarodnih tekmovanjih in upam, da bo prihajajoča sezona še uspešnejša. Vse navijače vabim, da nam stojijo ob strani in nas podpirajo celotno sezono!" je ob pridružitvi Cedeviti Olimpiji povedal Jeremić.
V Novem Sadu rojeni Marko Jeremić je svojo profesionalno kariero začel v Vojvodini, kjer je ostal do leta 2015, sledil pa je prestop v Mladost Mrkonjić Grad, kjer je ostal eno sezono. Sledila je selitev v Napredak Kruševac, tudi del te ekipe je bil eno sezono, nato pa se je pridružil FMP-ju, kjer je igral med letoma 2017 in 2020. Zadnji dve sezoni je bil Jeremić član Mornarja iz Bara.
V AdmiralBet ABA Ligi je v minuli sezoni zaigral na 26 tekmah in dosegal 10,1 točko, 1,8 skoke in 1,2 asistence na tekmo.
Svoj debi v članski reprezentanci Srbije je Jeremić doživel v kvalifikacijah za EuroBasket 2022 leta 2020, zaigral pa je na dveh obračunih.