Nemanja Todorović extended cooperation with Borac
Wednesday, 27. July 2022 at 16:07
Nemanja Todorović and Borac have agreed on extension of their successful cooperation.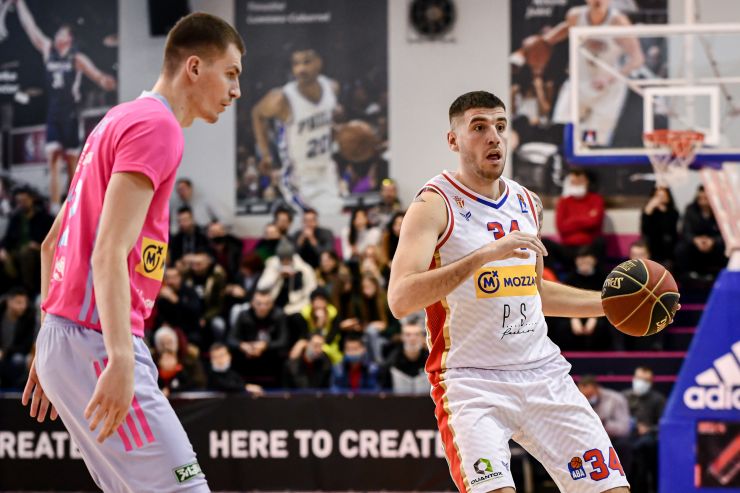 Nemanja Todorovic (Photo: AdmiralBet ABA League/Dragana Stjepanovic)
Borac keeps composing its squad for the forthcoming season. After Aleksa Novaković has extended for another two seasons, Marko Radonjić signed a one-year contract, while Đorđe V. Ćurčić extended for four more seasons, the same did Nemanja Todorović. He agreed on cooperation with Borac for two more seasons.
The experienced player has been wearing Borac jersey on several episodes and has been one of the key figures on the squad, led from the bench by head coach Marko Marinović recently. He has also become captain since the last season.
There is no doubt that this extension is the big gain for Marko Marinović and his squad ahead of the season that starts this fall and in which Borac will have another chance of competing in the AdmiralBet ABA League.
Nemanja Todorović has been averaging 16.9 minutes, 4.5 points and 2.8 assists per game last season, playing for Borac in the regional competition.
--------------------
Nemanja Todorović produžio saradnju sa Borcem
Nemanja Todorović i Borac dogovorili su nastavak svoje uspešne saradnje.
Borac nastavio je da sklapa tim za narednu sezonu. Nakon što je Aleksa Novaković napravio dogovor sa klubom da i naredne dve sezone nosi dres Borca, Marko Radonjić jednu, a Đorđe V. Ćurčić čak četiri, isto je učinio i Nemanja Todorović. Baš kao i pomenuti košarkaši, i on je stavio svoj paraf, doduše na dvogodišnji ugovor.
Igrač bogatog iskustva u više navrata je branio boje čačanske ekipe. Reč je o prekaljenom košarkašu, koji dobro zna sistem rada u Borcu, zbog čega je dugi niz godina jedna od glavnih karika u timu. Takođe, od prošle sezone je poneo i zvanje kapitena prvog tima.
Nema sumnje, njegov ostanak u timu Marka Marinovića je veliki dobitak pred sezonu koja će početi na jesen, a u kojoj će Borac ponovo imati priliku da se takmiči u AdmiralBet ABA ligi.
Nemanja Todorović je minule takmičarske godine u regionalnoj ligi prosečno provodio na terenu 16,9 minuta, a upisivao je skor od 4,5 poena i 2,8 asistencije.