Jaylen Adams is the new Crvena zvezda mts point guard
Friday, 29. July 2022 at 12:21
Jaylen Adams has signed with the red and white for the forthcoming season and is expected to represent a big reinforcement at the point guard position at the Belgrade powerhouse.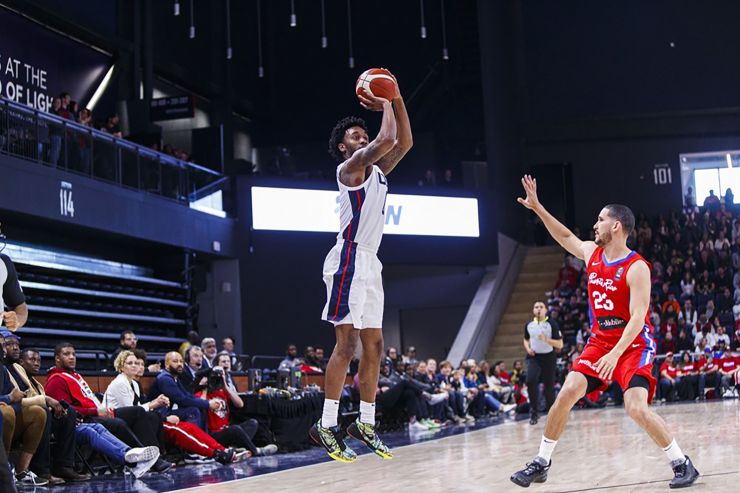 (Photo: FIBA)
Jaylen Adams, former St. Bonaventure University student is coming to Belgrade from the Sidney Kings, with which he won the trophy of the Australian National Championship, having been named the MVP of the league.
Adams, who is known for his speed and great court vision, has been averaging 20 points, 6 assists and 5 rebounds per game.
After his college career, Adams has been playing for Atlanta, Portland and Milwaukee. As a member of Wisconsin Herd , he has been named an NBA G League First Team member for 2020.
By signing with Adams, Crvena zvezda mts have covered their point guard position. The arrival of the American player is the seventh reinforcement ahead of the new season, after previously Nedović, Martin, Holland, Ilić, Petrušev and Bentil have put on the red and white jerseys.
--------------------
Džejlen Adams novi plejmejker Crvene zvezde mts
Džejlen Adams potpisao je ugovor sa crveno belima za narednu sezonu i predstavljaće veliko pojačanje na poziciji organizatora igre crveno belih.
Adams, nekadašnji student koledža "Sent Bonaventur" (2014-2018) dolazi u Beograd iz ekipe Sidnej Kingsa sa kojom je osvojio titulu prvaka australijske lige i bio proglašen za MVP-ja cele lige.
Adams, koga odlikuju izuzetna brzina i sjajan pregled igre, prošle sezone u australijskog NBL ligi imao je izuzetne brojke: 20 poena, 6 asistencija i 5 skokova po meču.
Rodom je iz Hanovera (Merilend 04.05.1996) visok 188 centimetara i težak 86 kilograma, a nakon koledž karijere (nedraftovan) nastupao je za ekipe Atlante, Portlanda i Milvokija. Kao član Viskonsin Herda, tima Milvoki Baksa u "Dži ligi" izabran je za člana idealne petorke za 2020. godinu. Odlazak u Australiju pokazao se kao pun pogodak, jer je obeležio sezonu igrajući za klub kome je pomogao da dođe do četvrte titule prvaka Australije i dobio priznanje (MVP) koje su pre pre njega osvajali Endrju Bogut i Džašon Tejt sada igrač petorke Hujston Rokitsa.
Angažovanjem Džejlena Adamsa, Crvena zvezda je "pokrila" poziciju organizatora igre. Dolazak Adamsa je 7. pojačanje kluba pred novu sezonu, nakon Nedovića, Martina, Holanda, Ilića, Petruševa i Bentila.