Andrej Andonoski is the new MZT Skopje Aerodrom player
Friday, 29. July 2022 at 14:02
Macedonian intenrational Andrej Andonoski will be playing for the MZT Skopje Aerodrom squad for the next three seasons, as he signed a deal with the Skopje side until 2025 with an option of contract extension.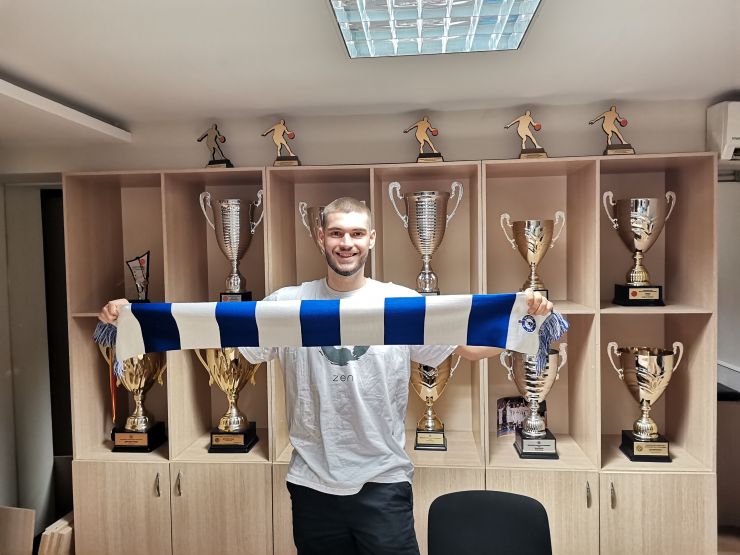 One of the arguably most talented players of North Macedonia at the moment is playing at the power forward position and has already played five games for the national team.
It is expected for Andrej Andonoski to become one of the leading players of MZT Skopje Aerodrom in the forthcoming period.
He is the tenth player at disposal of head coach Aleksandar Petrović, after Damjan Stojanovski, Adem Mekić, Bojan Krstevski, Damjan Robev, Brae Ivey, Mike Caffey i Evan Maxwell, and Strahinja Mićović. It's worth adding talented Dimitar Ivanov, Bojan Veličkovski and Marko Spasovski to the list.
---------------------
Andrej Andonoski novi košarkar na MZT Skopje Aerodrom
Makedonskiot reprezentativec i eden od najdobrite vo vtoriot tim na makedonskiot šampion vo izminative prvenstva, Andrej Andonovski (20 god, 203 sm), vo slednite najmalku tri sezoni će nastapuva za najdobriot sostav na MZT Skopje Aerodrom otkako deneska potpiša dogovor do 2025 godina so možnost za prodolžuvanje na sorabotkata.
Stanuva zbor za eden od najtalentiranite makedonski košarkari vo momentov, koj igra na pozicijata krilen centar i koj veće ima pet sredbi odigrani za najsilniot sostav na žolto-crvenata selekcija. Prethodno beše eden od liderite na kadetskata, juniorskata i na mladinskata reprezentacija, so koja letovo nastapi na Evropskoto prvenstvo (EP), divizija B vo Tbilisi. Od Andonovski se očekuva da bide eden od predvodnicite na MZT Skopje vo idniot period, odnosno naslednik na generaciite koi dosega dominiraa vo makbasketot nosejći go sino-beliot dres.
Toj e desettiot košarkar so koj vo momentov raspolaga trenerot Aleksandar Petrović, po Damjan Stojanovski, Adem Mekić, Bojan Krstevski, Damjan Robev, Amerikancite Bre Ajvi, Majk Kafi i Evan Maksvel, kako i srpskiot internacionalec Strahinja Mićović. Tuka se i talentiranite Dimitar Ivanov, Bojan Veličkovski i Marko Spasovski.