Danko Branković pens deal with Mega MIS
Sunday, 31. July 2022 at 21:22
Bayern Munich center Danko Branković has officially completed a move to Mega MIS.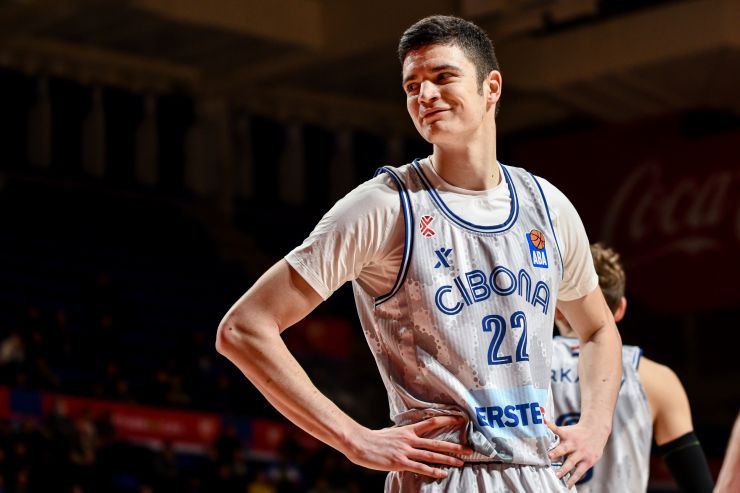 Danko Brankovic (Photo: AdmiralBet ABA League/Dragana Stjepanovic)
Bayern Munich center Danko Branković has officially completed a move to Mega MIS.
Branković spent the last 3 years in Cibona, while this summer he penned a multi-year contract with Turkish Airlines EuroLeague side Bayern Munich.
This 22-year-old center won the U19 ABA League Championship with Cibona youth team, while in the previous season he helped Cibona first team to win both the Croatian National Championship and the Croatian National Cup.
He had a very good season in 2021/22 AdmiralBet ABA League as well as he averaged 9.9 points and 5 rebounds per game.
Danko Branković is the 3rd new player to join Mega MIS this summer after Ahmaad Rorie (Balkan Botevgrad) and Jovan Šljivančanin (Carroll College).
-------------------------------------------
Mega dovela centra, iz Bajerna stigao Danko Branković
Iz Bajerna u Megu na dvogodišnju pozajmicu!
KK Mega MIS je na korak od formiranja sastava za predstojeću sezonu pošto je ugovog sa klubom potpisao talentovani centar Danko Branković koji dolazi iz redova Bajerna iz Minhena. Mladi centar iz Hrvatske je do kraja prošle sezone igrao za Cibonu a onda je tokom leta potpisao ugovor sa Bajernom.
Danko Branković je rođen 5. novembra 2000. godine u Zagrebu, visok je 216 centimetara i igra na poziciji centra. Za prvi tim Cibone je debitovao 2019. godine a prošle sezone je u ABA ligi. Prošle sezone je za Cibonu u proseku beležio 9,9 poena, 5 skokova i 1,1 blokadu za nešto više od 17 minuta na terenu, dok je u hrvatskoj ligi u proseku imao 9,8 poena, 5,1 skok i 1,6 blokada po utakmici,
Sa juniorskim timom Cibone je 2019. godine osvojio U19 ABA ligu, dok je sa prvim timom osvojio kup 2022. godine kada je i proglašen za MVP-a takmičenja. Prošao je sve mlađe selekcije Hrvatske reprezentacije, a za A tim je debitovao 2021. godine.