Alpha Kaba is the new Budućnost VOLI player
Thursday, 04. August 2022 at 10:50
26-year old Alpha Kaba, new Budućnost VOLI player, is known as a stop sign around the rim, since he can close all the space around. He is great in the pick and roll game, where he can also cover lower players.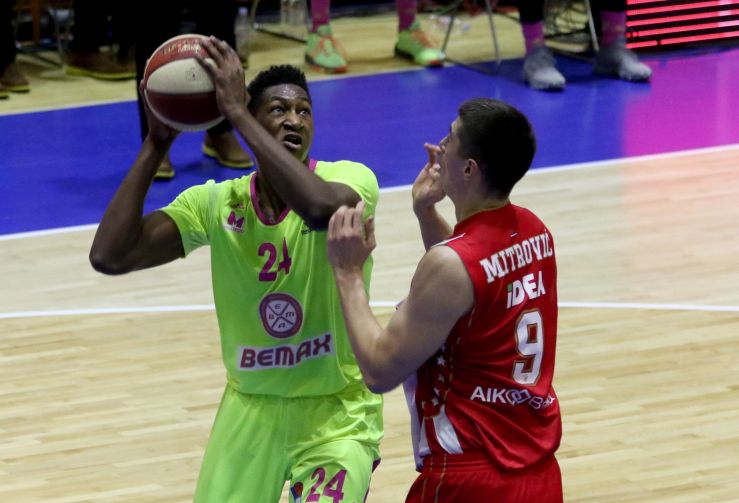 Alpha Kaba (Photo: Mega Leks/Ivica Veselinov)
He is great in stopping opponents passes with great reaction. He is arguably one of the best European players in the participation of the rebounding on both ends of the court.
He is also known to be a dream of every backcourt player. He is also great in the pick and roll player and setting screens and is great target for lob passes.
Aplha Kaba, a 60. pick at the 2017 NBA Draft has signed with the Podgorica side.
After leaving the AdmiralBet ABA League, where he used to play for Mega MIS between 2015 and 2017 spent two years at Asvel, moving afterwards to Boulzac and Nanterre 92 in France, after which he moved to Gaziantep, where he spent the 2021/22 season, where he earned himself the MVP award for the Turkish National Championship.
He has been averaging 13.8 points per game and led the competition in the championship by averaging 10.4 rebounds, 1.34 steals and 1.56 blocks per game.
---------------------
Alfa Kaba novi je košarkaš Budućnost Volija
Dvadesetšestogodišnji košarkaš je "naplatna rampa" oko obruča, jer gotovo sve stiže da zatvori. Odlično se pozicionira u pick and roll-u, gdje zna i da preuzme niže igrače.
Dobro prati protivnička dodavanja i često ih prekida dobrom reakcijom. Jedan od boljih igrača u Evropi u participaciji skoka, kako u odbrani tako i u napadu.
Kada je u pitanju ofanziva, riječ je o centru koji je "san" svakog spoljnog igrača. Kada izađe na blok, to je onda žargonski "zidanje" prostora, ali se i brzo "odmota" u rolanju gdje obično slijedi napadanje obruča sa obije ruke. Odlična je meta i za lob pasove jer ga krasi vertikalnost.
Alfa Kaba, 60. pik na NBA draftu 2017. godine, potpisao je dvogodišnji ugovor sa podgoričkim klubom.
Bivši centar Gaziantepa rođen je u Blou, u Francuskoj, a nastupa za reprezentaciju Gvineje. Visok je 208cm i bio je najbolji skakač ABA lige 2017. godine u dresu Mege.
Dvije godine je proveo u Asvelu sa kojim je osvojio francuski Kup i prvenstvo. U Francuskoj je proveo i naredne dvije godine, braneći boje Bulzaka i Nantera. Prethodog ljeta je potpisao za turski Gaziantep koji je predvodio do 4. mjesta u regularnom dijelu šampionata zbog čega je nagrađen MVP nagradom.
Prosječno je postizao 13.8 poena i bio lider šampionata sa 10.4 skokova uz 1.34 ukradene lopte i 1.56 blokada po utakmici.