Radovan Đoković signs new 1-year deal with Borac
Thursday, 04. August 2022 at 15:29
Radovan Đoković will remain in Borac for at least one more season as the two sides signed a 1-year contract extension.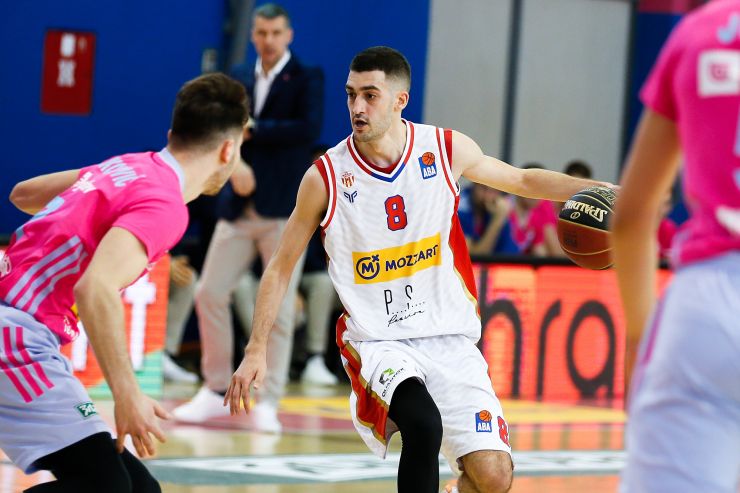 Radovan Djokovic (Photo: Mega Mozzart/Ivica Veselinov)
Radovan Đoković will remain in Borac for at least one more season as the two sides signed a 1-year contract extension.
Đoković has been playing for Borac since 2018, so this will be his 5th season with the Čačak squad.
"In my opinion, Borac is the best option for me for the following season as the club will once again play in AdmiralBet ABA League. You all know that I had a difficult year as I was recovering from a tough injury, but Borac was waiting for me all the time. Head coach gave me a chance to return on court when I needed it the most and I cannot forget that. I decided to sign a new contract with the club and if I avoid any further injuries, I believe that I can help the team in the season in front of us," said Đoković.
In the 2021/22 AdmiralBet ABA League season, Radovan Đoković played 11 games and averaged 5.6 points, 2.7 assists and 1.8 rebounds.
-----------------------------
Radovan Đoković će i dalje nositi dres Borca
Provereni šuter odlučio je da ostane u Čačku još godinu dana...
KK Borac sklopio je još jedan ugovor. Naime, Radovan Đoković, dvadesetšestogodišnji košarkaš iz Beograda doneo je odluku da ne menja sredinu, već da ostane u klubu u koji je stigao još davne 2018. godine. Što se tiče novog ugovora, on će važiti u narednih godinu dana.
Nema mesta sumnji, ostanak sigurnog beka šutera u timu Marka Marinovića je zaista veliki dobitak pred novu sezonu, u kojoj će Borac ponovo nastupati u AdmiralBet ABA ligi.
Što se tiče razloga zbog kojih je odlučio da nastavi saradnju sa Čačanima, Đoković je izjavio:
"Klub i ja smo se dogovorili da produžimo saradnju na još godinu dana. Po mom mišljenju, Borac je najbolja opcija za sledeću sezonu. Svi znaju da sam izašao iz teške povrede i da sam imao turbulentan povratak. Sve je krenulo dobro, čak sam dobio poziv u reprezentaciju, ali onda je moja igra krenula u lošem pravcu, jer sam doživeo još jednu sitnu povredu", zastao je Đoković, a onda produžio svoje izlaganje.
"Borac me je sačekao kada sam bio povređen, ispao je korektan. Trener mi je dao šansu da se vratim kada mi je bilo najpotrebnije, tako da to ne mogu da zaboravim. Od ovog leta postao sam slobodan igrač, jer je prethodni ugovor sa klubom istekao, ali sam na kraju prelomio da je najbolja opcija da ostanem u Čačku i da igram ABA ligu", dodao je stari/novi igrač Borca.
Takođe, Đoković je još kazao.
"Nadam se da ću uspeti da iznesem celu narednu sezonu kako treba i da mi se neće ponoviti neka povreda. A ako budem zdrav, verujem da ćemo klub i ja imati veliku korist od mojih partija", rekao je Radovan Đoković.
Što se tiče prošlosezonskog učinka u dresu Borca, Radovan Đoković je prosečno provodio na parketu 20 minuta, a upisivao je u proseku 5,6 poena, 1,8 skokova, kao i 2,7 asistencije. Doduše, valja podsetiti da je on zbog povrede prednjih ukrštenih ligamenata propustio značajan deo prošle, ali i sezone pre nje.