Paulius Valinskas joins FMP Meridian on a 2-year deal
Thursday, 04. August 2022 at 19:34
FMP Meridian announced that they signed a 2-year contract with Lithuanian guard Paulius Valinskas.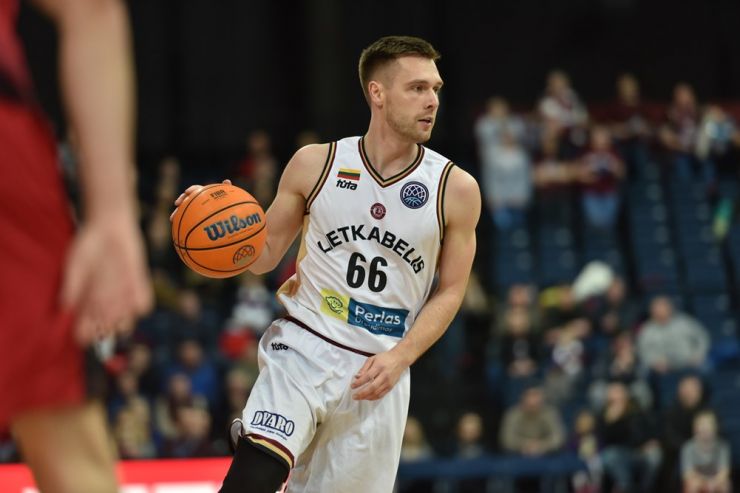 Paulius Valinskas (Photo: FIBA)
FMP Meridian announced that they signed a 2-year contract with Lithuanian guard Paulius Valinskas.
Valinskas started his pro career in Zalgiris Kaunas with whom he won two domestic titles (2017, 2018), while he also played in Turkish Airlines EuroLeague while wearing the green jersey of the Lithuanian giant.
After that, this 26-year-old guard moved to Lietkabelis for the 2018/19 season, while he then went on loan to French side Orlean.
In the summer of 2019, Valinskas returned to Lietkabelis where he stayed in the following two seasons and had very good roles both in the Lithuanian Championship and in 7Days EuroCup.
Finally, Valinskas spent the previous season in Belgian team Okapi Aalst where he averaged 16.3 points, 3.9 assists and 2.8 rebounds per game.
---------------------------------------
Paulius Valinskas novi bek Pantera
Paulius Valinskas (26, 191cm) je novi bek šuter KK FMP Meridian! Litvanac, rođen u Kaunasu koji je prošao školu Žalgirisa, a potom i debitovao za prvi tim predstavljaće veliko pojačanje na bekovskoj poziciji za sezonu 2022/2023. On će dres Pantera nositi u naredne dve sezone.
Valinskas je kao što smo rekli započeo karijeru u Žalgirisu sa kojim je nastupao i u Evroligi, a takođe osvojio dve duple krune 2017. i 2018. godine. Nakon toga je ovaj odlični šuter igrao za Lietkabelis, gde je prikupio iskustvo u Ligi Šampiona, a potom otišao na pozajmicu u Orlean. Nakon nastupa u Orleanu igrao je za Liektabelis još dve sezone, igrao veoma uspešno u prvenstvu Litvanije i Evrokupu. U sezoni 2020/2021 Valinskas je u Evrokupu prosečno postizao 11 poena uz izvanredan procenat šuta za tri od 45.5 odsto.
U sezoni 2021/2022 Litvanac je nastupao u prvenstvu Belgije za Okapi Alst i prosečno imao 16.3 poena uz 3.9 asistencije i 2.8 skoka. Karakteriše ga precizan šut za tri poena, kao i veoma dobar pregled igre što omogućava da se gotovo jednako dobro snalazi na poziciji plejmejkera.
KK FMP Meridian je nakon nedavno upražnjene bekovske pozicije reagovao brzo na tržištu i Paulius Valinskas će se uskoro priključiti novom timu. Podsećamo, Panteri su 1. avgusta imali prvi timski trening u sezoni, a 21. septembra će odigrati prvu utakmicu u sezoni.