Hunter Hale stays at Borac
Friday, 05. August 2022 at 20:57
Borac keeps strengthening its ranks ahead of the forthcoming AdmiralBet ABA League season.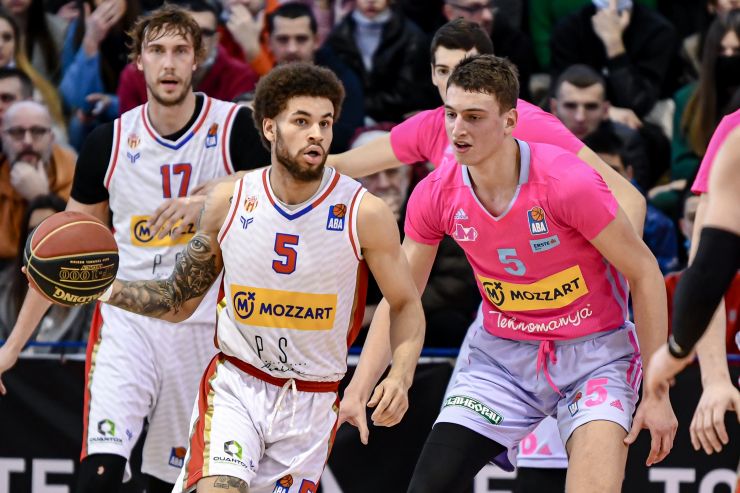 Hunter Hale (Photo: AdmiralBet ABA League/Dragana Stjepanovic)
After having signed with Marko Radonjić and Đorđe V. Ćurćić, while extending with Nemanja Todorović, Aleksa Novaković and Radovan Đoković, another member of the squad from the last season, Hunter Hale, has decided to stay in the town by the Morava river. The two sides have agreed on cooperation for one season.
Ahead of Borac, the American used to play for the Nelson Giants after spending his college years at the Central Michigan, Grand Valley State and Winthrop Universities.
Last season, Hunter Hale used to average 27.5 minutes, 13.4 points, 4.2 rebounds and 2.5 assists per game for Borac in the AdmiralBet ABA League.
---------------------
Hanter Hejl ostaje u Borcu
Borac nastavlja da se pojačava pred narednu sezonu AdmiralBet ABA lige. Nakon što su ugovori sklopljeni sa Markom Radonjićem i Đorđem V. Ćurčićem, a produženi sa kapitenom Nemanjom Todorovićem, Aleksom Novakovićem i Radovanom Đokovićem, u timu iz grada na Moravi je odlučio da ostane i Hanter Hejl. Klub je sa pomenutim igračem sklopio saradnju na još jednu takmičarsku godinu.
Reč je o Amerikancu koji je i prošle sezone branio boje Borca. Pre toga, nastupao je za ekipu Nelson Giants, koja se takmiči u Nacionalnoj košarkaškoj ligi Novog Zelanda (NZNBL).
Novi/stari igrač Borca košarkašku karijeru je započeo u srednjoj školi Kalamazoo Central u Mičigenu. Nakon toga pohađao je sledeće koledže: Central Michigan (2015-2016), Grand Valley State (2017-2018), i na kraju Winthrop (2019-2020). Godine 2020. se pojavio na draftu, ali nije draftovan. Dobar deo sezone 2020/2021. proveo je u već pomenutoj ekipi Nelson Giants, sa kojom je potpisao prvi profesionalni ugovor.
Interesantan podatak da je Hanter Hejl na utakmici protiv ekipe Otago Nuggets ubacio protivniku čak 41 poen. Inače, prosečno je u novozelandskoj ligi beležio 26,9 poena.
Da je prvotimac Borca ozbiljan igrač, govore podaci da je bio prvi strelac košarkaške lige Novog Zelanda, kao i najbolji kradljivac iste. Takođe, može da se pohvali da je bio član All-Star Five pomenute ostrvske države.
Što se tiče minule sezone u klubu iz Čačka, valja reći da je Hanter Hejl u proseku na parketu boravio 27,5 minuta. Za to vreme, prosečno je ubacivao 13,4 poena. Takođe, imao je 4,2 skoka, kao i 2,5 asistencije.