Aleksa Uskoković is staying in Mega MIS
Monday, 15. August 2022 at 16:03
Mega MIS have confirmed that they inked a 1-year contract with Aleksa Uskoković!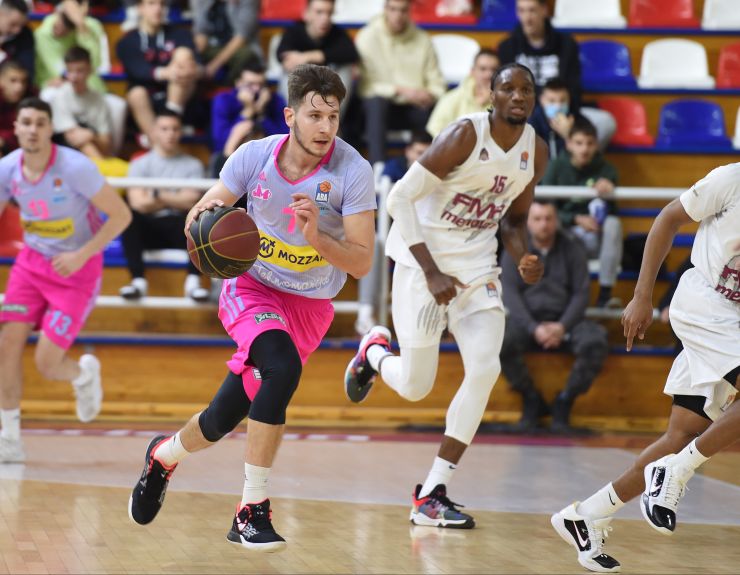 Aleksa Uskokovic (Photo: FMP Meridian)
Mega MIS have confirmed that they inked a 1-year contract with Aleksa Uskoković!
Uskoković is therefore staying in Mega MIS as he spent the last 6 months among the Pink troops on loan from Crvena zvezda mts. After making some excellent performances during the 2nd part of the previous season, Mega MIS offered him a contract and Uskoković has now officially become a player of the Pink squad.
While playing for Mega MIS in the 2021/22 AdmiralBet ABA League season, Uskoković averaged 5.3 points, 2.8 assists and 2.8 rebounds per game.
Uskoković started his pro career in Crvena zvezda mts back in 2016/17 season. After that he moved to FMP Meridian for which he played from 2017 to 2020, while then he returned to Crvena zvezda mts. In his 2nd stint with the red-and-whites, Uskoković won the 2021 AdmiralBet ABA League championship.
Uskoković was a member of Serbian youth selections, while his biggest success with the national team came in 2017 when he won the gold medal at the U18 EuroBasket in Slovakia.
-------------------------------------
Aleksa Uskoković ostaje u Megi još godinu dana
Posle pozajmice, Uskoković sada i zvanično novi igrač Mege!
Košarkaški klub Mega MIS je dodatno osnažio tim za predstojeću sezonu pošto je Aleksa Uskoković potpisao jednogodišnji ugovor sa klubom. Uskoković je krajem prošle godine došao u klub na pozajmicu iz Crvene zvezde, a posle odličnih igara, pogotovo u drugom delu sezone, sada je i zvanično postao igrač Mege.
Za Megu je u ABA ligi prošle sezone u proseku beležio 5,3 poena i po 2,8 skokova i asistencija, dok je u Superligi u proseku imao 10,2 poena, 5,3 asistencije i 3,9 skokova po meču.
Aleksa Uskoković je rođen 30. avgusta 1999. godine u Beogradu, visok je 189 centimetara i igra na poziciji jedan. Posle igranja za mlađe selekcije Crvene zvezde, tri sezone je nastupao za FMP dok se 2020. godine vratio u Crvenu zvezdu za koju je nastupao do kraja 2021. godine kada je došao na pozajmicu u Megu. Uskoković je nastupao i za mlađe selekcije reprezentacije Srbije, a najveći uspeh je zabeležio 2017. godine kada je kao kapiten sa juniorskom selekcijom Srbije osvojio zlato na U18 Evropskom prvenstvu u Slovačkoj.