Matulina and Klarica signed new contracts with Zadar
Friday, 02. September 2022 at 23:52
Young Zadar players Maksim Matulina and Krševan Klarica have signed new three-year contracts with Zadar.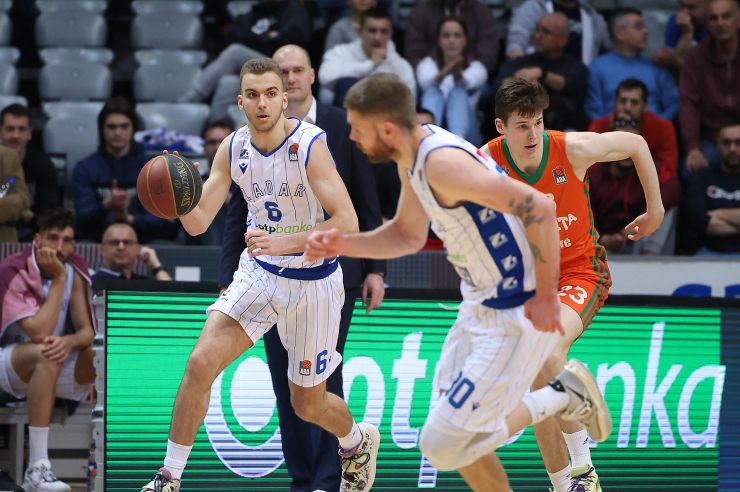 Krsevan Klarica (Photo: Zadar/Zvonko Kucelin)
After having demonstrated true working mentality in the practices done so far and after noticing individual progress, the club decided to offer the two players better terms of cooperation. With these signings, the club is keeping up with the policy of forming the core of the senior Zadar team of young players.
After signing a new contract with Zadar, Maksim Matulina told: "I am truly happy to have extended the cooperation with the club, playing for Zadar is a huge honour. This is yet another motivation for further work and development. I am looking forward to the forthcoming season and hope for many success stories."
Krševan Klarica sounded delighted after agreeing on a new deal with the Dalmatian squad: "I wish to thank the coach and club, to have given trust in me and for their plans to invest in my development on long term. I will try my best to warrant this trust in the best possible way and I hope that we would have a successful season with the help of our fans."
---------------------
Matulina i Klarica potpisali nove ugovore s Zadrom
Mladi Zadrani Maksim Matulina i Krševan Klarica potpisali su nove trogodišnje ugovore s Zadrom.
Klub im je nakon prikazanog truda i rada na dosadašnjim treninzima te nakon zapaženog individualnog napretka odlučio ponuditi financijski poboljšane uvjete. Ovim potpisima klub nastavlja sportsku politiku s kojom se iz omladinskog pogona želi stvoriti buduća okosnica momčadi Zadra.
Nakon potpisa novog ugovora s Zadrom Maksim Matulina izjavio je: "Jako mi je drago što sam nastavio suradnju s klubom, igrati za Zadar velika je čast. Ovo mi je još dodatna motivacija za daljni rad i napredovanje. Veselim se nadolazećoj sezoni te se nadam brojnim uspjesima."
Krševan Klarica je bio zadovoljan nakon novog dogovora s dalmatinskim klubom: "Zahvaljujem treneru i klubu što su mi ukazali povjerenje i što dugoročno planiraju ulagati u moj razvoj. Ja ću svojim radom i zalaganjem nastojati opravdati povjerenje kluba i vjerujem da ću svaku dobivenu priliku iskoristiti na najbolji mogući način te da ćemo uz pomoć navijača imati uspješnu sezonu."