Dimitar Pandev is the new MZT Skopje Aerodrom player
Sunday, 04. September 2022 at 14:27
The new North Macedonia international Dimitar Pandev is the newest reinforcement of the MZT Skopje Aerodrom squad and he is expected to toughen the competition for a spot on the roster under both rims.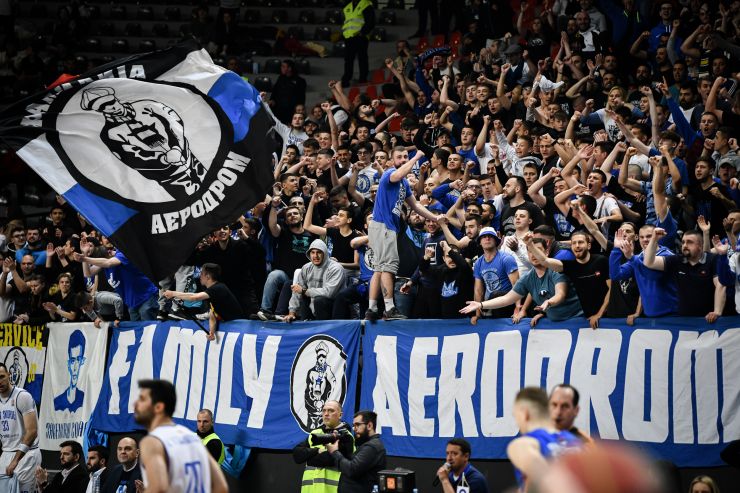 (Photo: ABA League j.t.d./Dragana Stjepanovic)
For the power forward, this will be the first senior club basketball experience in Macedonia, since he spent the majority of his career so far abroad, especially in the USA. For four seasons, Pandev played in the NCAA League, playing for Salt Lake, Clarendon and Indiana-Purdue Universities. He is expected to bring toughness with his height and strength to the MZT Skopje Aerodrom frontcourt in the forthcoming season, when the Metalists will be back in the AdmiralBet ABA League.
Dimitar Pandev is the 13th player at the disposal of head coach Aleksandar Petrović for the new season. There are Americans Brae Ivey, Evan Maxwell, Mike Caffey, besides Strahinja Mičović, Samet Yigitoglu, Damjan and Vojdan Stojanovski, Adem Mekić, Bojan Krstevski, Damjan Robev, Andrej Magdevski and Andrej Andonoski. There are also youngsters like Dimitar Ivanov, Marko Spasovski, Bojan Veličkovski and Viktor Stojkovski.
--------------------
Dimitar Pandev novi igrač na MZT Skopje Aerodrom
Novopečeniot makedonski košarkarski reprezentativec, Dimitar Pandev (24 god, 208 sm), e najnovoto zasiluvanje za MZT Skopje Aerodrom, koe će ja zgolemi konkurencijata vo borbata pod koševite.
Stanuva zbor za krilen centar, za koj ova e prv klub od Makedonija na seniorsko nivo, so ogled što pogolemiot del od dosegašnata kariera ja mina vo stranstvo, najmnogu vo SAD. Pandev četiri godini beše del od NCAA-ligata kade što go noseše dresot na univerzitetite Solt Lejk, Klarendon i za Univerzitet Indijana-Perdju univerzitet Indijana (UIPUI). So svojata visina i korpulentnost se očekuva da donese cvrstina vo centarskata linija na MZT Skopje vo pretstojnata sezona, vo koja "metalcite" osven atakot na dvojnata domašna kruna, po četiri godišno otsustvo gi očekuva i nastap vo Admiral bet ABA ligata.
Pandev e trinaesetiot košarkar koj trenerot Aleksandar Petrović će go ima na raspolaganje za novata sezona. Tuka se ušte Amerikancite Bre Ajvi, Evan Maksvel i Majk Kafi, Srbinot Strahinja Mićović, Turčinot Samit Jigitoglu kako i makedonskite reprezentativci Damjan i Vojdan Stojanovski, Adem Mekić, Bojan Krstevski, Damjan Robev, Andrej Magdevski i Anrej Andonoski. So prviot tim na sino-belite rabotat i mladincite Dimitar Ivanov, Marko Spasovski, Bojan Veličkovski i Viktor Stojkovski.