Miloš Glišić is the new reinforcement of Borac Mozzart
Thursday, 08. September 2022 at 19:13
Borac Mozzar are stronger for another player. Miloš Glišić is the new name in the ranks of the Čačak squad. The red and white have agreed on a two-year cooperation with the Banja Luka-born player.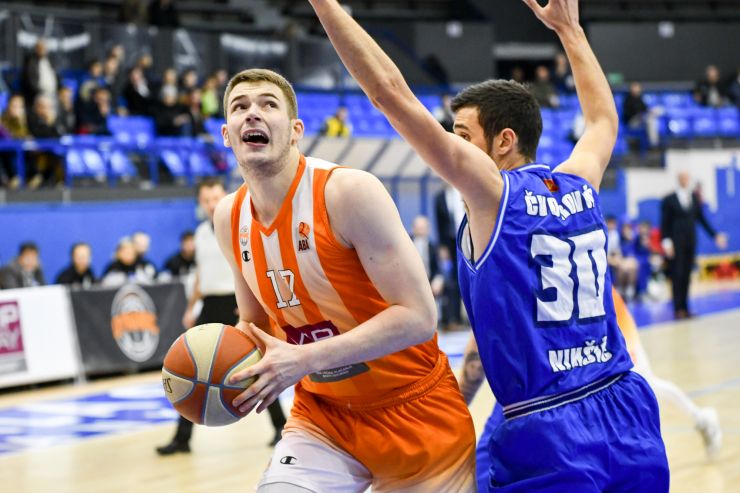 Milos Glisic (Photo: Dynamic VIP PAY)
Miloš Glišić is a 207 cm tall power forward and he will be competing for minutes on the court next season with Nemanja Todorović and Bojan Tomašević.
After agreeing on cooperation with the Čačak squad Miloš Glišić told: "I am happy to have come to such a big club as Borac. Čačak is the town of basketball, this is a well-known fact to everyone and the club is also competing in the AdmiralBet ABA League, which has been an additional reason for me to sign the contract," new Borac player told.
The player started his career at Partizan NIS, having played afterwards for the clubs like Vršac, Dynamic VIP PAY, Rogaška, Metalac and Helios Suns.
He also used to be a member of the youth categories of Serbia National Team. With U16 squad, he won the bronze medal at the 2012 European Championship and a year later silver, with the same selection.
---------------------
Miloš Glišić nova akvizicija Borca Mozzart
Borac Mozzart uspeo je da sastavi još jedan ugovor. Novo ime u redovima Čačana jeste Miloš Glišić (24, 207), košarkaš rodom iz Banja Luke. Crveno-beli klub je sklopio saradnju sa pomenutim sportistom koja će važiti dve godine.
Što se tiče Miloša Glišića, reč je o košarkašu koji pokriva poziciju broj četiri, odnosno krilnog centra, jer je visok je 207 cm. U ovom momentu, KK Borac Mozzart na toj poziciji ima još dva igrača, kapitena Nemanju Todorovića i Bojana Tomaševića.
Što se tiče razloga zbog kojih je odlučio da prihvati ponudu kluba, Miloš Glišić je rekao: ,,Drago mi je da sam došao u tako veliki klub kao što je Borac. Čačak je grad košarke, to je svima dobro poznato, a takođe klub igra AdmiralBet ABA ligu, što je jedan razlog više da prihvatim ponudu koju mi je dao Borac", izjavio je novi igrač Borca.
Rečeni košarkaš je karijeru započeo u Partizanu, a usledili su nastupi za Vršac, Dinamik, Rogašku, Metalac, Helios, a poslednju sezonu je proveo po drugi put u timu sa Dorćola.
U svojoj karijeri Miloš Glišić je nastupao i za reprezentaciju Srbije. Sa U16 timom je 2012. godine osvojio bronzanu medalju na Evropskom prvenstvu, a godinu dana kasnije srebrnu sa već navedenim sastavom.