Nikola Kočović returns to his hometown club Borac Mozzart
Saturday, 17. September 2022 at 15:30
Nikola Kočović will once again play for Borac Mozzart as he signed a 1-year deal with the club.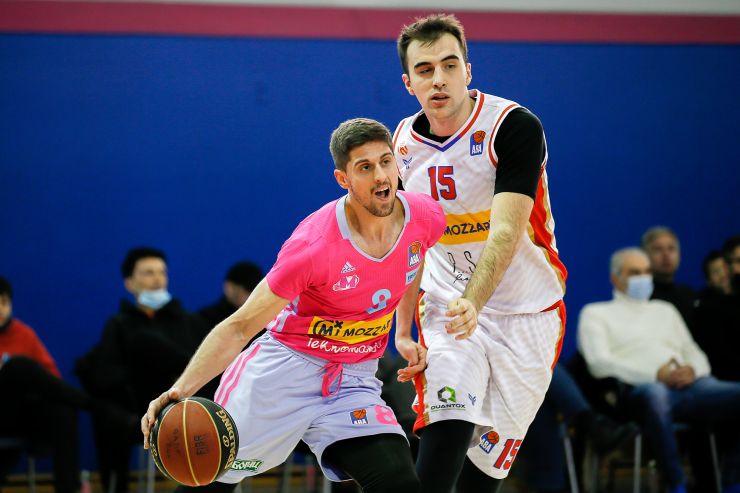 Nikola Kocovic (Photo: Mega Mozzart/Ivica Veselinov)
Nikola Kočović will once again play for Borac Mozzart as he signed a 1-year deal with the club.
Recall that Kočović has previously played for Borac Mozzart from 2018 to 2021 and he was part of the red-and-white team that won the promotion to AdmiralBet ABA League for the first time in club's history.
Kočović spent the previous season in Mega NIS where he did not play much and he averaged just 2 points and 1 assist per game in the regional competition, but he is now back in his hometown and is ready to start his second stint with the Čačak troops.
Nikola Kočović started his pro career in Mladost Čačak back in 2014, while after that he played for Spartak Subotica, Metalac Farmakom, Mladost Zemun, Vršac, Mladost Mrkonjić Grad, Borac Mozzart and Mega MIS.
-----------------------------------------
Nikola Kočović ponovo među svojima
Plejmejker je stavio potpis na ugovor koji će važiti godinu dana...
KK Borac Mozzart Borac uveliko nastavlja da sklapa tim za narednu sezonu, u kojoj će ponovo biti član jadranske elite. Novo/staro lice u dresu kluba jeste Nikola Kočović, organizator igre iz grada na Moravi. Ugovor između dve strane je sklopljen na godinu dana.
Nema mesta sumnji, povratak pouzdanog organizatora igre predstavlja dobar potez uprave kluba, jer je reč o igraču koji odlično poznaje sistem i način rada trenera Marka Marinovića.
Nikola Kočović je nekoliko sezona branio boje čačanskog tima, a prošlu sezonu je proveo u taboru Mege Mozzart, gde mu je trener bio još jedan Čačanin, Vladimir Jovanović.
Inače, Nikola Kočović je košarkašku karijeru započeo u čačanskoj Mladosti. Usledio je angažman u Spartaku iz Subotice, pa u Metalcu, Mladosti iz Zemuna, Vršcu, Mladosti iz Mrkonjić Grada. Zatim je igrao tri sezone upravo u Borcu, da bi minulu takmičarsku godinu proveo u Megi.
U dresu tima iz Beograda Nikola Kočović je lane u AdmiralBet ABA ligi prosečno igrao devet minuta, a beležio je dva poena i jednu asistenciju.