Crvena zvezda mts prevail over MZT Skopje Aerodrom in the opening round
Saturday, 01. October 2022 at 20:00
Crvena zvezda mts scored a comfortable win over MZT Skopje Aerodrom at the start of the new season.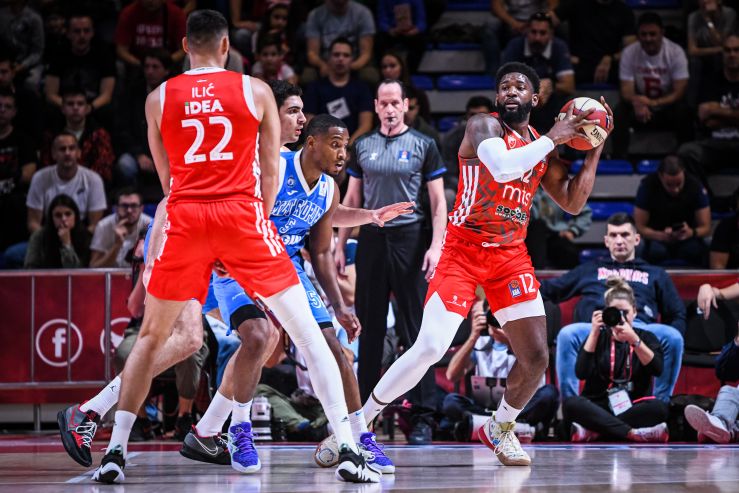 Hassan Martin (Photo: ABA League j.t.d./Dragana Stjepanovic)
AdmiralBet ABA League Round 1, Saturday, 1 October 2022:
CRVENA ZVEZDA MTS - MZT Skopje Aerodrom 87:67 (13:9, 26:13, 26:25, 22:20)
Game recap: Crvena zvezda mts scored a comfortable win over MZT Skopje Aerodrom in the first round of the new season.
The reigning champions did not really start the game as they planned as they scored just 13 points in the opening quarter. Still, their defense worked well in those moments and despite scoring only 13 points they were still in front after the first 10 minutes – 13:9.
The second quarter was the key period in this game. Crvena zvezda mts increased the pace significantly and won this quarter by 26:13, which gave the home team a double-digit lead at the halftime – 39:22. In the rest of the match, Zvezda did not have problems keeping their lead, so they grabbed a valuable win at the start of the 2022/32 campaign.
Key moments: MZT Skopje Aerodrom opened the 2nd quarter with a 3-pointer to reduce the gap to just one point - 13:12, but then Crvena zvezda mts showed their full power and made the key 11:0 run to escape on a double digit lead – 24:12. From that moment, the gap just kept growing and growing and Crvena zvezda mts did not let MZT Skopje Aerodrom get any close in the rest of the match.
Man of the match: Crvena zvezda mts new point guard Jaylen Adams had a pretty good debut in AdmiralBet ABA League. He was the top scorer in the winning team with 16 points, while some of his 3-pointers showed that he will be a big addition to the team's offense for the 2022/23 season.
Can't trick the stats: Zvezda's aggressive defense made their opponents lose the ball too many times. MZT Skopje Aerodrom made 13 turnovers this evening in Aleksandar Nikolić Sports Hall, while at the same time Crvena zvezda mts made just 5.