Pelister-Bitola defeat GGD Šenčur to keep the perfect score
Wednesday, 19. October 2022 at 20:59
Pelister-Bitola will finish the first regular season tournament with a perfect score as they prevailed over GGD Šenčur in a thrilling ending.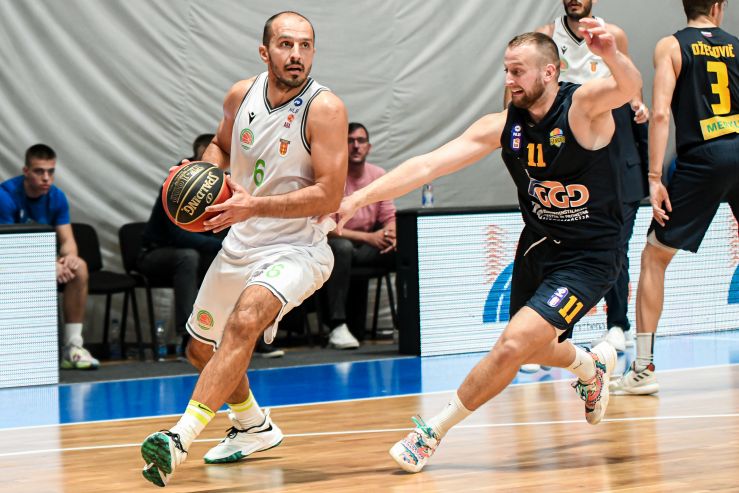 (Photo: ABA League j.t.d./Dragana Stjepanovic)
NLB ABA League 2 Round 2, Wednesday, 19 October 2022:
PELISTER-BITOLA - GGD Šenčur 71:67 (17:20, 22:12, 16:19, 16:16)
The first tournament of the 2022/23 NLB ABA League 2 regular season was simply perfect for Pelister-Bitola as the green-and-whites scored two wins in the opening two rounds.
After prevailing over their local rivals TFT Skopje at the start of the new season, Pelister-Bitola squad defeated GGD Šenčur this Wednesday evening in a thrilling ending to improve their season score to 2-0.
Everything in this match was decided in the final minute in which Pelister-Bitola made a 5:0 run to grab the precious win.
The 38-year-old point guard Dimitar Karadžovski played the key role in those moments as he firstly made a lay-up to put his team in front – 68:67, while after that he also made a very important free-throw for 69:67.
GGD Šenčur had one last chance to take the win, but Jan Novak missed a 3-pointer, after which Pelister-Bitola power forward Aleksandar Jovanovski made both free throws to seal the win for his team – 71:67.