Mihailo Petrović joins Borac Mozzart for the rest of 2022/23 season
Tuesday, 15. November 2022 at 14:46
Young point guard will spend the rest of the season on loan in Čačak squad.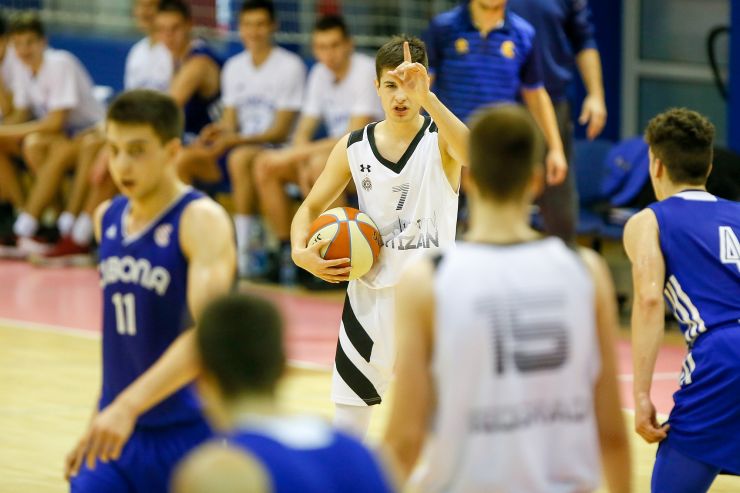 Mihailo Petrovic (Photo: ABA League/Ivica Veselinov)
It is official! Young Partizan Mozzart Bet point guard Mihailo Petrović has joined Borac Mozzart on a season-long loan.
Petrović has played for all youth selections of Partizan Mozzart Bet, while he spent the whole last summer practicing with the first team of the black-and-whites. This 19-year-old point guard then went on a loan to Dunav Stari Banovci where he averaged 20.6 points and 5.6 assists.
After an impressive stint in Dunav Stari Banovci at the start of the 2022/23 season, Borac Mozzart contacted Partizan Mozzart Bet and the two sides agreed that Petrović should spend the rest of the season in Čačak where he will have a chance to play in AdmiralBet ABA League.
---------------------------------------------------
Mihailo Petrović novi prvotimac Borca Mozzart
Mladi košarkaš ostaje u Čačku do kraja takmičarske godine...
Mihailo Petrović (19, 186), mladi košarkaš rodom iz Prokuplja, postao je novi igrač prvog tima Borca Mozzart.
Reč je o plejmejkeru koji je u Čačak stigao iz Dunava, gde je bio na pozajmici. Inače, njegov matični klub je Partizan Mozzart Bet, a u Stare Banovce, baš kao i u Čačak, došao je na pozajmicu.
Inače, on je prošao kroz mlađe kategorije crno-belog kluba iz prestonice, a u pripremnom periodu je proveo vreme sa prvim timom. Međutim, zbog brojne konkurencije na pozicija organizatora igre, Mihailo Petrović je poslat u Dunav. U dosadašnjem delu sezone igrao je u proseku 32 minuta, a beležio je 20,6 poena i 5,6 asistencija.
Što se tiče pozicije organizatora igre, u ovom momentu Borac Mozzart na tom mestu ima Marka Radonjića, kao i Nikolu Kočovića, ali je on povređen i do sada nije ulazio na parket. Zbog toga je trener Marko Marinović bio prinuđen da kombinuje, pa su se u organizaciji igre priključivali Radovan Đoković i Hanter Hejl, kao mladi igrači poput Ćurčića i Miloševića. Naravno, kada su bili u rosteru.