Saša Stefanović reinforced Mega MIS
Wednesday, 16. November 2022 at 12:43
Aleksandar "Saša" Stefanović is the new reinforcement of Mega MIS! The Serbian international, who was born in the USA, joins Mega from the Greek Colossos where he started the season, and previously had an excellent college career in the NCAA where he played for Purdue for four years.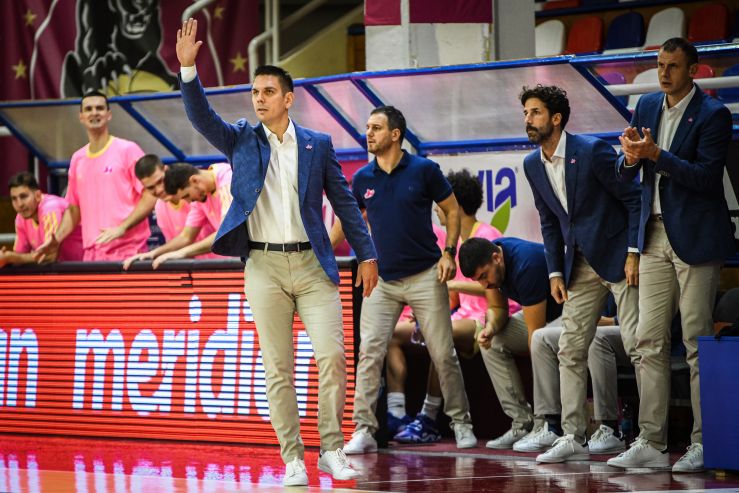 Mega MIS team (Photo: ABA League j.t.d./Dragana Stjepanovic)
Aleksandar Stefanović was born on November 29, 1998, in Crown Point, Indiana. He is 196 centimeters tall and plays as a guard. He spent his entire NCAA career at Purdue University, where he averaged 10.4 points, 2.5 rebounds, and 3 assists per game in his last season. During this year's NBA Summer League, he played for San Antonio, and he started his professional career in the Greek side Kolossos, where he played little this season.
His father, Ljubiša "Lu" Stefanović, also played basketball professionally, and, interestingly, he was the first basketball player from the former SFRY to be selected in the NBA draft in 1985, when he was picked as 97th by the Seattle Supersonics.
--------------------
Saša Stefanović pojačao Mega MIS
Aleksandar "Saša" Stefanović je novo pojačanje Mega MIS-a.
Srpski internacionalac koji je rođen u SAD u redove Mege dolazi iz grčkog Kolososa gde je započeo sezonu, a prethodno je imao odličnu koledž karijeru u NCAA gde je četiri godine nastupao za Perdju.
Aleksandar Stefanović je rođen 29. novembra 1998. godine u Kraun Pointu u Indijani, visok je 196 centimetara i igra na poziciji beka. Kompletnu NCAA karijeru je proveo Univerzitetu Perdju, gde je u poslednjoj sezoni beležio u proseku 10,4 poena, 2,5 skokova i 3 asistencije po meču. Tokom ovogodišnje NBA Letnje lige je nastupao za San Antonio a profesionalnu karijeru je započeo u grčkom Kolososu gde ove sezone nije puno igrao.
Njegov otac Ljubiša "Lu" Stefanović se takođe profesionalno bavio košarkom a zanimljivo je da je on bio prvi košarkaš sa prostora bivše SFRJ koji je izabran na NBA draftu i to 1985. godine kada ga je sa 97. pozicije izabrao tadašnji Sijetl Supersoniks.