Who will stay on the winning path – Mornar-Barsko zlato or Mega MIS?
Saturday, 19. November 2022 at 13:38
Mornar-Barsko zlato will host Mega MIS in Round 7 of the 2022/23 AdmiralBet ABA League regular season.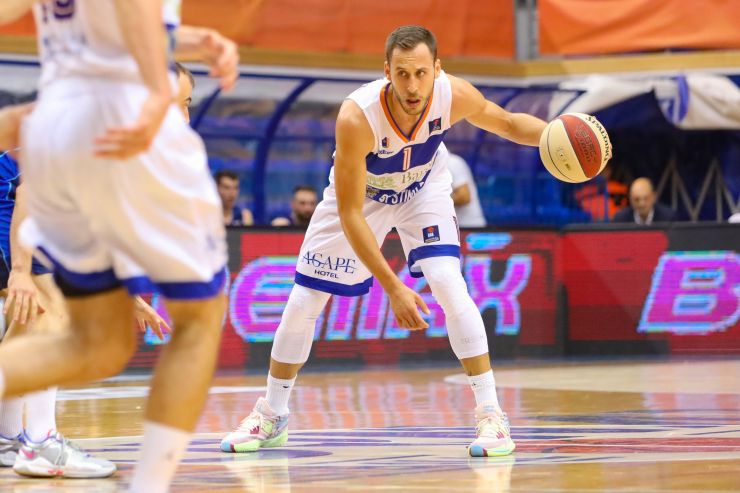 Vladimir Mihailovic (Photo: Mornar-Barsko zlato/Media Pro)
AdmiralBet ABA League Round 7, Sunday, 20 November 2022:
MORNAR-BARSKO ZLATO - MEGA MIS
Where? Topolica Sports Hall, Bar.
When? 17:00
Story of the game: AdmiralBet ABA League returns to Bar after three weeks as Mornar-Barko zlato are about to play their first home game in November this Sunday evening, while their opponents will be the youngest team in the league Mega MIS.
Each side scored important win before the international break. Mornar-Barsko zalto triumphed on the road against MZT Skopje Aerodrom to end their 3-game losing streak, while Mega MIS defeated SC Derby at home court to end their 5-game losing run.
While both sides are aiming to stay on the winning path, we should mention couple of details from their previous encounters in the regional league.
Mornar-Barsko zlato have won 4 out of the last 5 games against Mega MIS in AdmiralBet ABA League. It could have easily been 5 out of 5, but if you watched their game from February 2021, you certainly remember the incredible comeback Mega MIS pulled off in the final minute that was crowned by Scoochie Smith's game-winning lay-up in the last second of the game.
Also, we have to mention their previous game in AdmiralBet ABA League as back then Mornar-Barsko zlato player Vladimir Mihailović scored 46 points to lead the Bar troops toward the win. That is the 2nd best single-game scoring record in league history.
Match-up in focus: Vladimir Mihailović is still playing in Mornar-Barsko zlato and, considering that he's been in outstanding form lately, he will once again be one of the biggest threats to Mega MIS defense. On the other side, Mega MIS will try to respond via Dragan Milosavljević who is not just an excellent defender, but also the 2nd best scorer of the Belgrade team.
Head-to-head score in the regional league: In total 5:6; In Bar 4:2.