Aleksandar Bursać reinforces MZT Skopje Aerodrom frontcourt
Tuesday, 22. November 2022 at 12:20
Serbian international Aleksandar Bursać is the new reinforcement of MZT Skopje Aerodrom, which has been expected for quite some time, since Evan Maxwell has departed from the club recently.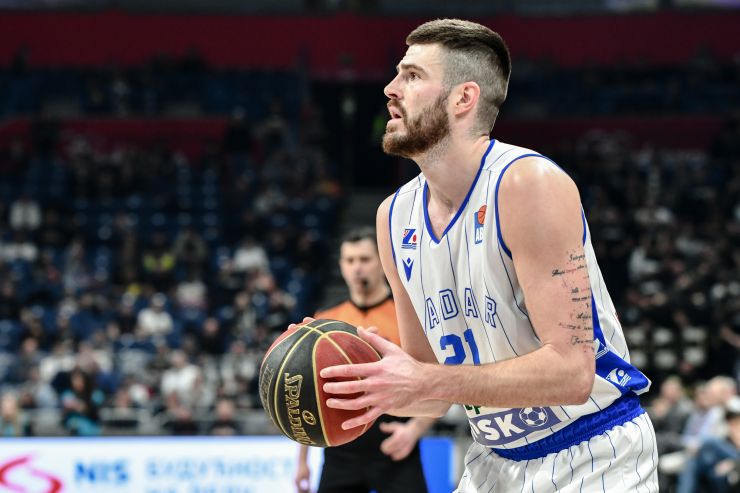 Aleksandar Bursac (Photo: Partizan NIS/Dragana Stjepanovic)
The experienced power forward, who has great knowledge of the AdmialBet ABA League, since he used to play for FMP Meridian for four seasons and afterwards another season for Zadar. His last club has been Spanish side Girona, where he used to play together with Marc Gasol.
Aleksandar Bursać is expected to put on the blue and white jersey soon. MZT Skopje Aerodrom are about to face Mega MIS on Sunday in the Round 8 of the AdmiralBet ABA League season.
---------------------
Aleksandar Bursać će ja zasili centarskata linija na MZT Skopje
Srpskiot internacionalec, Aleksandar Bursać (27 god, 205 sm) e najnovoto zasiluvanje za MZT Skopje Aerodrom, od kogo se očekuva da ja popolni prazninata vo igrata pod koševite po zaminuvanjeto na Evan Maksvel, koj poveće ne e igrač na našiot klub.
Stanuva zbor za iskusen krilen centar, koj odlično ja poznava ABA-ligata so ogled što četiri godini beše del od nea kako košarkar na FMP, a dve kako člen na hrvatski Zadar. Negov posleden klub e španska Džirona, kade što nastapuvaše zaedno so legendata na "crvenata furija", Mark Gasol.
Srbinot treba utre da pristigne vo Skopje i se očekuva debito vo plavo-beliot dres da go ima v nedela protiv Mega MIS (21 časot) vo meč od 8. kolo od ABA-ligata.