Domagoj Vuković pens deal with Cibona
Tuesday, 22. November 2022 at 15:06
Domagoj Vuković is ready to return on court after 8 months recovering from injury as he signed a contract with Cibona.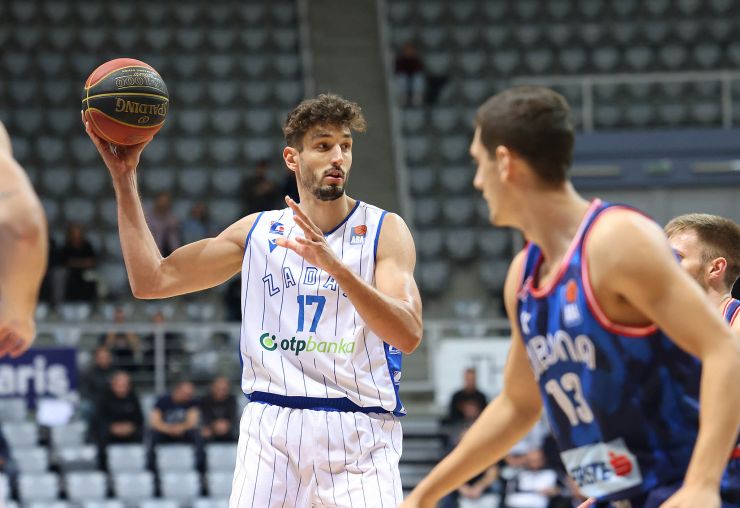 Domagoj Vukovic (Photo: Zadar/Zvonko Kucelin)
Domagoj Vuković is ready to return on court after 8 months recovering from injury as he signed a contract with Cibona.
Vuković, who spent the last 5 years playing for Zadar, suffered a tough Achilles tendon injury in April this year due to which he was sidelined for the past 8 months. He's been practicing with the Zagreb giant first team for some time now, while he is now fully recovered and ready to make his Cibona debut.
"I am glad that I became part of this Cibona team. I would like to use this opportunity to thank the coaching staff and the club management for helping me in my last stage of recovery and for including me in the first team trainings so that I could be fully ready to return on court. I am eagerly anticipating the first game as I believe it will be a big challenge for me after the 8-month break. There is no doubt that I will need some time to adjust, but I am ready for that. Every win with this team will bring me lot of joy and I hope that we can win trophies in the upcoming period," said Vuković.
-----------------------------
Vuković se pridružio Vukovima
Domagoj Vuković novo je ime u redovima Cibone. Riječki košarkaš već neko vrijeme trenira s momčadi Josipa Sesara, a sada je i službeno potpisao do kraja aktualne sezone.
Iskusni Vuković (29) u svojoj je karijeri nosio dres Splita, Zagreba, Zaboka i osječkih Vrijednosnica, a proteklih pet sezona proveo je u redovima Zadra. Zbog ozljede Ahilove tetive od travnja je izbivao s terena, a sada potpuno oporavljen dočekuje nove izazove u svom novom klubu.
– Drago mi je što sam postao dio ove ekipe. Kako i inače živim u Zagrebu, sigurno će mi biti velika motivacija igrati doma. Želim zahvaliti stožeru i upravi Cibone što su mi izašli u susret za završnicu rehabilitacije i posljednje pripreme kako bih se u potpunosti vratio na teren. S nestrpljenjem očekujem prvu utakmicu, vjerujem da će to biti pravi izazov nakon osam mjeseci stanke. Sigurno će mi trebati neko vrijeme prilagodbe, ali na to sam spreman. Veseli me borba za svaku pobjedu i nadam se trofejima s ovom momčadi, istaknuo je krilni centar Cibone nakon potpisa ugovora.
Pojačanje Cibosa u AdmiralBet ABA ligi i Kupu Krešimira Ćosića smije zaigrati odmah, a u HT Premijer ligi mora pričekati do početka drugog kruga prvenstva, odnosno do 17. prosinca kada će Cibona ugostiti KK Split.